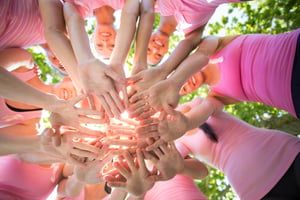 Breast cancer is the second most common cancer among women in the United States. Twelve percent
of women will develop invasive breast cancer in their lifetime. Each year in the United States, about 233,000 women are diagnosed with invasive breast cancer. Although breast cancer in men is rare, about 2,000 American men are diagnosed each year with invasive breast cancer.
There are 2 main types of breast cancer:
Ductal carcinoma starts in the tubes (ducts) that carry milk from the breast to the nipple. Most breast cancers are of this type.
Lobular carcinoma starts in the parts of the breast, called lobules, which produce milk.
In rare cases, breast cancer can start in other areas of the breast.
October is Breast Cancer Awareness Month, marked in countries across the world, helps to increase attention and support for the awareness, early detection and treatment as well as palliative care of this disease.
Read More