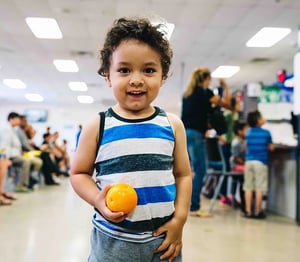 The Northwest AHEC staff had the honor of hearing from the Second Harvest Food Bank of Northwest NC about all the wonderful things they have going on in the community. Myya Carson presented to our staff and Chef Justin Davis did a virtual cooking demo of an apple tart and oatmeal strudel.
Second Harvest Food Bank of Northwest North Carolina's Mission: To provide food assistance through a network of partners, while educating and engaging our communities in the elimination of hunger and its causes.
We wanted to shine light on this organization and let you know how you can support them!
LEARN ABOUT THE CHALLENGE:

The COVID-19 pandemic has produced an economic crisis unlike anything since the Great depression. Business closures, job losses, and furloughs are creating elevated need in our communities and, for some, the recovery will take years.​

Food insecurity was a significant challenge facing our communities before the pandemic. Now, Feeding America is reporting that 1 in 6 ​of our neighbors here in ​Northwest North Carolina may struggle with hunger this year.



Families are struggling to stretch their incomes to cover basic needs. ​Together, we can change that.



Read about the Challenge and Get Involved



GET INVOLVED:

Give time. Give funds. Give food. Give voice. However you want to give your time or $, there are so many options of ways you can give back.



Second Harvest has volunteer opportunities nearly every day. They offer options to serve daily, weekly, monthly or at one (or all!) of their events. Whether you are helping us sort food or building large pallets of dry goods, or helping out in the gardens or offices, your time helps to set the table for local families.



See ALL the ways you can give back



ORDER CATERING:

100% of proceeds from the catering goes back into supporting the Providence Culinary Training Program which is a 13 week training program, where students come from all walks of life.

Learn More About Catering



EAT AT PROVIDENCE RESTAURANT:

The Providence Grill at Tanglewood is officially OPEN! From hot dogs and sandwiches to gourmet fries and ice cold drinks, they've got just what your taste buds are craving! Eat, Drink, and Enjoy at the Providence Grill at Tanglewood. Open 7 days a week - 10:30am-5pm.

By dining with us at the Providence Grill you are supporting our nationally-recognized programs that are changing lives one recipe at a time. Food feeds a person. Employment feeds a family.



VISIT RESTAURANT FACEBOOK PAGE



SERVING 15,000 MEALS A WEEK TO THOSE IN NEED:

The Providence Community Meals program produces ready-to-heat meals for Second Harvest's partner agency network as a supplement to the fresh fruit and vegetables, frozen meats and staple food items Second Harvest rescues, inspects, and distributes across 18 counties of Northwest North Carolina every day. Thousands of households utilize these pantries every month to supplement their groceries and make ends meet.

Learn More About Community Meals



GET IN TOUCH!

Follow them on social media and visit the websites.
Facebook - Second Harvest / Providence WS
Websites - www.secondharvestnwnc.org / www.providencerestaurantws.com
Social determinants of health are conditions in the environments in which people are born, live, learn, work, play, worship, and age that affect a wide range of health, functioning, and quality-of-life outcomes and risks.
Northwest Area Health Education Center (AHEC) and the Office of Continuing Medical Education (OCME) have developed goals to enhance the health of the public by intentionally addressing Social Determinants of Health (SDOH) across all service areas.
Click Here View our Resources to help guide the delivery of care and training provided as part of our goal to enhance the health of the public.