For the second year in a row, the 36th Annual High Country Conference on Respiratory Care was held virtually on February 9-10, 2022. The two-day conference provided attendees with up-to-date, patient-centered and evidence-based practices in respiratory care.
The virtual/live webinar option continues to attract a diverse crowd while ensuring the safety of participants, presenters, planning committee and Northwest AHEC staff. Additionally, attendance this year was up 20% compared to last year and had representation from five states (CA, GA, NC, OH, SC)!


What did 2022 attendees have to say?
"Very good conference, enjoyed both days. I do like it virtually. I think it went very well."

"Great conference with variety and diversity of topics and speakers."

"Enjoyed virtual more than I thought I would!"

"Always Enjoy the speakers this conference brings in because each one of their presentations provides new data and new ideas to put into my skill set!"

"This conference was one of the most diverse in terms of topics than I've seen."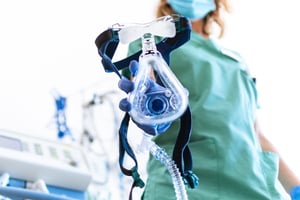 2022 Conference Objectives:
Provide up-to-date, patient-centered and evidence-based practices in respiratory care.
Explain the importance of respiratory therapists in improving patient outcomes and quality of life.
Discuss new treatments and advancements in technology associated with respiratory care.
Participants were provided with high-quality education sessions led by experts in the field. Knowing that these past few years have been hectic for respiratory therapists and their time was extremely valuable, we packed up-to-date and relevant information into the two days.
This year's conference had several topics with a COVID-19 focus ranging from associated provider burnout to updates on inpatient and outpatient treatment to staff security issues during the pandemic. Other topics included VIDD, HBO, pediatric new ventilator modes, navigational bronchoscopy and "respiratory zebras" (Dieulafoy's Disease, Central Hypoventilation Syndrome (Ondine's Curse), and Plastic Bronchitis).
Special thanks to our planning committee members who worked to make this conference a success!
Phillip Christmas, RRT
Director, Respiratory Care
Kindred Hospital Greensboro
Committee Member Since 2012

Maria Hiller, RCP, RRT
Cardiopulmonary Department
Appalachian Regional Healthcare System
Committee Member Since 2011

Laurie E. Hunt MS, RRT, RCP
Retired 7/2017
Committee Member Since 1994

Kim Metzler, BSRT, RRT, RCP
Respiratory Therapist
Atrium Health Wake Forest Baptist – Lexington Medical Center
Committee Member Since 2011

Jimmy Phillips, RRT-NPS, RCP
System Director of Cardiopulmonary, Neurodiagnostic and Sleep Services
Appalachian Regional Healthcare System
Committee Member Since 1995
Also...Special thanks to our Northwest AHEC staff!
Lindsey MacLean, MPH, CHES®
Coordinator of Allied and Public Health
Continuing Education at Northwest AHEC
High Country Conference
Planning Coordinator Since 2017

Gail Pawlik, BA
Program Assistant at Northwest AHEC

High Country Conference
Lead Program Assistant Since 2017
Save the date for the High Country Conference next year in February 2023!