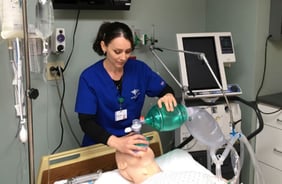 Exceeding Virtually All Expectations with High Country Conference on Respiratory Care
In February 2021, a year into the Pandemic, the 35th Annual High Country Conference on Respiratory Care was held the first year as a virtual webinar. The event, held February 17-18, 2021, is designed BY respiratory therapists FOR respiratory therapists and students. Participants were provided with high-quality education sessions led by experts in the field.

Knowing that this year was one for the books for respiratory therapists and their time was extremely valuable during the pandemic, we packed up-to-date and relevant information into the two-day conference. This year the conference days were split by focus, with Day 1 addressing adult topics and Day 2 concentrating on pediatrics. Topics like High Flow and COVID-19, Vaping, Pediatric Cystic Fibrosis, and Asthma were covered by speakers from Duke University Medical Center, Wake Forest Baptist Health, Wilkes Community College, Atrium Health Levine Children's Hospital, and Catawba Valley Community College.


Participants and speakers both commented about the success of the program:


"The presenters were amazing, you continue to provide excellent and informative content."


"I am grateful for the online conference during this pandemic, the surge of online availability is a gift!"


"I always enjoy this conference, year after year, the speakers are great. Great job!"


"It was above my expectations, the entire conference was excellent and the technology worked perfectly."


"You guys put on a great conference, I know the burden of making it all remote was probably stressful. You knocked it out of the park! Kudos!"
On the post survey there were many comments about the program but we also like to see how the High Country Conference will improve daily work of participants. See results below: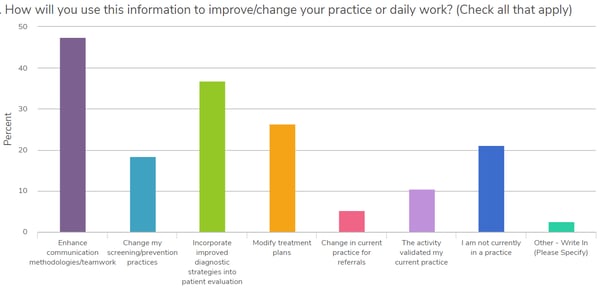 Special Thanks to our Planning Committee Members and Staff who worked to make this conference a success!
Since May of 2020, the committee and Northwest AHEC staff were hard at work planning the conference. Each member contributed to the group by sharing their professional experience and expertise. Committee members were responsible for assisting with program planning, selecting session topics, recommending presenters, disseminating information and soliciting feedback to share with the team. Even with the conference being held virtually, everyone remained involved throughout both days.
Save the date - High Country Conference in February 2022!