High School students across the 17-County NWAHEC Region really showed up this summer with both Camp Med in person camps and virtual Camp Med having great turn outs!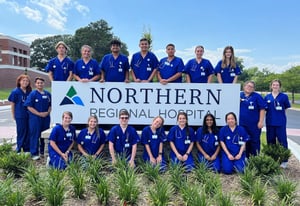 235 Virtual Camp Med unique participants
231 In-person Camp Med unique participants
20+ Hours per unique participant
38 "Meet the Health Professionals" unique participants
Check out all these articles from Camp Med Across the Region!
Camp Med is a great way to expose students to the world of possibilities in health careers. Now more than ever the need for talented healthcare workforce is a necessity. Students were exposed to the stimulating world of working in healthcare, and able to reflect on social determinants of health.
Camp Med activities continued in person across the Northwest Region with programs in Alleghany, Ashe, Caldwell, Catawba, Davidson, Forsyth, Guilford, Iredell, Stokes, Surry, Watauga and Wilkes counties.
Camp Med's Virtual Summer Program also returned for 2022 in partnership with Appalachian State University, Brenner FIT®, Catawba College, College Foundation of North Carolina, High Point University, Health Occupational Students of America (HOSA) North Carolina, Livingstone
College, Salem College, Wake Forest University School of Medicine Center for Experiential and Applied Learning, and Winston-Salem State University.
This year Camp Med had a component called "Meet the Health Professionals" which was a live webinar series where students were able to network with and ask questions of professionals in the healthcare workforce. It was a great resource and we heard great feedback about this series!
THANK YOU TO OUR PARTNERS ON VIRTUAL CAMP MED: