Some of the potential next generation of doctors and health professionals recently got a chance to experience their industry hands-on. Eighteen local high school students interested in becoming registered nurses, physicians, occupational therapists, or any number of occupations in the medical profession participated in Camp Med 2022 Summer Program provided by Northern Regional and the Northwest Area Health Education Center, an initiative of the Wake Forest School of Medicine. The camp took place on July 18-22.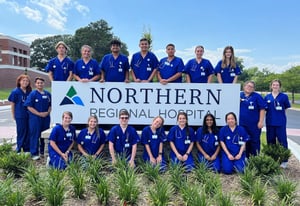 "Camp Med gave Northern Regional Hospital the opportunity to meet and introduce 18 young individuals to the healthcare field," said Daniel Combs, head of Student Programs at Northern Regional Hospital. "They started out quiet, but by the end of the week, they were full of questions and excitement about our hospital and community. I am confident that this Camp Med has changed the lives of these young students."
The program provided a range of educational experiences in the healthcare workforce, from meeting practitioners to observing state-of-the-art technology to touring healthcare facilities and learning about the services provided to patients, as well as presentations by the Mount Airy Police Department, Surry County Sheriff's Office, Surry County Emergency Services, and Air Care.
Participants explored different medical career pathways, including obstetrics, surgical services, diagnostic imaging, and more. Each student that participated in Camp Med obtained a CPR certification through the American Heart Association. The camp included a tour of Surry Community College to explore the healthcare certificates and programs offered there. The students finished their camp with a service project for Operation Medicine Drop, an event that encourages the public to drop off expired prescriptions and over-the-counter medications for proper disposal.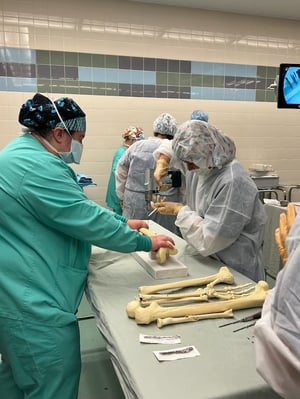 "There are many local students interested in entering the medical field and so we held Camp Med to give these individuals some experience and interaction to help them explore the many opportunities in healthcare here at Northern Regional Hospital," said Tina Beasley, manager of Volunteer Services at Northern Regional Hospital and one of the coordinators of Camp Med. "Our hopes and intentions with the camp are to expose students to a wide variety of careers within the medical field so that they might discover they have a passion for a career they might not have even known existed before attending the camp."
"Camp Med was an amazing opportunity," said Katie O'Neal, one of the students. "I highly enjoyed the pig dissection, OR tour, Air Care, intubation session, doing IVs on a mannequin, and hearing from several medical professionals. I also thought it was interesting and very informative when I had the opportunity to sit down with the pharmacy director and the infectious disease control pharmacist in a meeting. I will forever remember this experience and I learned so many things in only four days."
Camp Med participants were from across the area, including Karlee Bryant, Jace Hazelwood, Sophie Hutchens, Cassius Jennings, Chloe Jennings, and Wenxin Zheng from East Surry High School; Savanna Cortes, Alexander Cropps, Christopher Hernandez-Carrillo, and Haylee Orellana from Surry Early College; Chloe Johnson, Katie O'Neal, and Brianna Wilmoth from Surry Central High School; Aryan Hira and Palak Patel from Millennium Charter Academy; Mattie Bare and Zoe Draughn from North Surry High School; and Madison Spencer from Mount Airy High School.
Plans are for the program to be an annual camp held at Northern Regional Hospital.
Learn more about Camp Med Program Here