Wake Forest School of Medicine and Northwest Area Health Education Center (AHEC) just wrapped up Camp Med 2021. It was such a fun and educational experience with the best of both worlds with in-person Camp Med resuming in some counties and virtual Camp Med available to all as well! With 600+ participants enrolled across the Northwest AHEC region, North Carolina, and beyond it was a huge success.
Although programs designed to increase exposure to health careers paused over the past year, face-to-face Camp Med activities resumed in several counties across the Northwest Region with programs in Alexander, Alleghany, Ashe, Catawba, Davidson, Forsyth, Guilford, and Wilkes counties.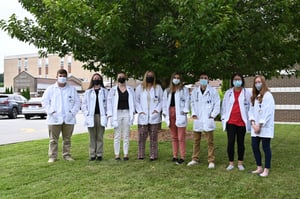 Ashe County High School was one location which held in-person Camp Med in mid-July. Over the course of the week, students participated in a variety of events and activities, including CPR, aquatic therapy, job shadowing where they were exposed to a variety of clinical experiences, completing the dissection of a fetal pig and a scavenger hunt, among other team building skills. Read more about their camp on this blog post


"Our goal is to increase these student' awareness of the many different jobs in healthcare, stimulate their interest in working in this field and hopefully start developing the next generation of healthcare providers,"
- Cynthia Dixon, Education Manager, Ashe Memorial Hospital
Camp Med's virtual summer program returned for 2021 in partnership with Appalachian State University, Brenner FIT®, Catawba College, College Foundation of North Carolina, High Point University, Wake Forest School of Medicine Center for Experiential and Applied Learning, and Winston-Salem State University. Virtual Camp Med 2021 provided 20+ hours of on-line content designed to give students a fun and rewarding experience while gaining the knowledge and skills to help them make informed decisions about future careers in health. The virtual camp expanded this summer to include a series of live webinars titled "Meet the Health Professionals." Students were able to network with and ask questions of professionals in the healthcare workforce, this new series was very well received.
"Camp Med is not only an insightful and enjoyable program, it also taught information ranging from the social determinants of health to the anatomy of a human heart. Watching those exceptional simulations and meeting the awesome health professionals were also an experience that I will never forget! I will definitely participate again in the future!"
– Amy Lei, Camp Med 2021 Participant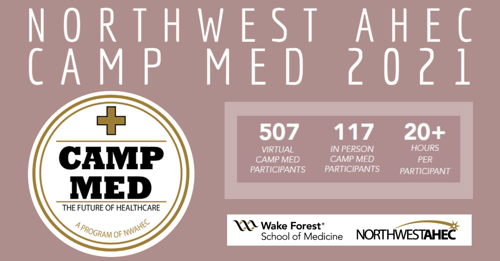 NWAHEC's Annual Camp Med Program is a great way for high school students to discover the world of possibilities in health careers. Now more than ever, there is a need for a talented health care workforce.
We are excited that you are interested in a future in health careers and would invite you to look for information on Camp Med 2022 which will be announced in Spring 2022. Make sure to visit our Health Careers Website for more information and sign up for email updates!