JEFFERSON, N.C. ¬¬— Ashe County High School students gained valuable insight into the healthcare field during Ashe Memorial Hospital's Camp Med Summer Program July 12-16, 2021.

Students in grades 9-12 participated in this year's camp, which was designed to expose students to the various aspects of medicine and potential career opportunities available to them should they decide to pursue a career in healthcare.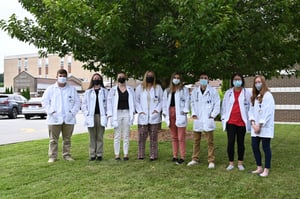 Over the course of the week, students participated in a variety of events and activities, including CPR, aquatic therapy, job shadowing where they were exposed to a variety of clinical experiences, completing the dissection of a fetal pig and a scavenger hunt, among other team building skills.





"Our goal is to increase these student' awareness of the many different jobs in healthcare, stimulate their interest in working in this field and hopefully start developing the next generation of healthcare providers," said Cynthia Dixon, education manager for Ashe Memorial Hospital.

In addition, students traveled to the May School of Nursing and Health Sciences at Lees-McRae College where they explored the Hart Simulation Center, which features 3G wireless human simulators in a simulated inpatient hospital.

Students also had the opportunity to visit with Ashe Medics, Highlands Emergency Air Rescue & Transport and Ashelawn Memorial Chapel to learn more about their respective careers and the services they provide.

"Camp Med is a unique educational opportunity for students in grades 9-12 who are interested in pursuing a career in the healthcare field," Dixon said. "Supported by Wake Forest Baptist Medical Center, AMH's Camp Med offers a variety of experiences and gives students a chance to see various jobs in the healthcare setting. Job shadowing allows students to observe and learn about providing safe and compassionate care to individuals experiencing illness or injury; while working with high-fidelity mannequins during simulation scenarios provide students some hands-on experiences."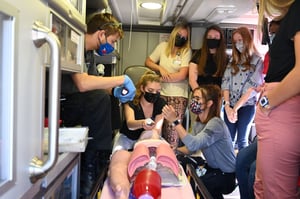 Through the Camp Med Summer Program, students are able to engage in discussions, gain valuable knowledge and skills and network with healthcare professionals in the hopes of discovering whether or not they may want to pursue a career in the healthcare field in the future.

The Camp Med Summer Program is an annual weeklong experience provided by the Northwest Area Health Education Center (AHEC), a program of Wake Forest School of Medicine and part of the NC AHEC System. The camp is open to all high school students and is designed particularly for those who have an interest in a career in the health sciences.
Read the Ashe Post and Times Article Here

###
About Ashe Memorial Hospital
For nearly 80 years, Ashe Memorial Hospital's dedicated team of board certified physicians, nurses and staff members have provided the highest quality medical care available to the people of Ashe County and the surrounding Blue Ridge Mountains. Ashe Memorial Hospital offers a wide variety of emergency, elective, rehabilitation and preventative health services. Founded in 1941, Ashe Memorial Hospital is a fully accredited 25 bed critical hospital located in Jefferson, N.C. For more information, please visit ashememorial.org or call 336-846-7101.
Contributed by: Jen Blanco, Marketing and Public Relations Manager, Ashe Memorial Hospital