Centering Equity, Justice, and Inclusion in the Recovery Movement, join us on June 9-11, 2021 for this Live Webinar! Agenda is posted and registration is OPEN!
Deadline for Scholarships Extended until May 28th, Apply Today! If you or someone you know is in need of a full conference scholarship, click here to fill out an application. (If you cannot access this link, please contact Ellen Kesler, ekesler@wakehealth.edu. Please apply by May 28, 2021.)
The planners of this conference realize that one of the best ways we can become "One Community in Recovery" is to ensure that community members are learning new information together. We want to ensure that people who have first person experiences with recovery have the opportunity to participate. If you have a fixed or limited income, you are invited to apply for a scholarship to cover the conference registration fee. We hope to see you at the conference!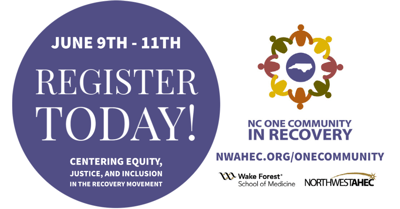 Overview
Join us via live webinar as we highlight some of the most progressive recovery practices in our state. This conference is an inspiring, informative event designed to foster the continuing growth of the North Carolina recovery movement, to teach participants how to get recovery programming up and running in their communities, to showcase some of the most progressive recovery practices, and to bring the community of providers and individuals in Recovery together as students and partners. Our goal is to educate and motivate participants to apply principles of Recovery in their personal and professional lives.

New This Year! Due to the ongoing need for social distancing, this year's conference will be held via live webinar. Although we will miss seeing each other in person, we will be able to enjoy the benefits of going virtual, including no need for travel. Our virtual format has also allowed us to invite more speakers from across the country.

Take a look at all the conference has to offer on our website and get registered today! Attend the whole conference for only $60.