We invite you to learn more about the modules and select what interests you. These pre-recorded modules are all online via your computer or mobile device at your own pace.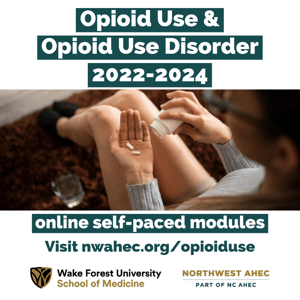 These activities are targeted to those interested in best practices for opioid prescribing and management and opioid use disorder, including physicians, advanced practitioners, nurses, behavioral health and addiction medicine specialists, and social service professionals.

Registration fee of just $10 per module.

To learn more about each module or to register for individual modules – CLICK HERE:
MOUD (Medication for Opioid Use Disorder): The Evidence is Compelling!

New Strategies to Reduce Barriers to Opioid Use Disorder (OUD) Treatment

New Strategies to Improve Opioid Use Disorder (OUD) Treatment Planning

Understanding and Addressing Opioid and Substance use Among American Indians in North Carolina


Barriers to Care: Stigma in Opioid/Substance Use Disorder
View credit information and more details on our website!