Join us for this exciting event on September 30th In-Person at Bowman Gray Center for Medical Education. Registration is now open, sign up to join us!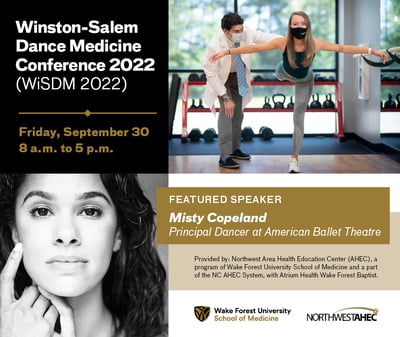 September 30, 2022
8AM - 5PM
Live in-person only at Bowman Gray Center for Medical Education

Participation in dance as a sport continues to grow.
As a result of increased participation, there is a growing need for healthcare providers to understand this group of athletes and their unique demands: their biomechanics are extreme, their psychosocial stressors are significant and the treatments they require are unique. Despite the growth of dance, familiarity with dance medicine (including the physiological and psychological concerns of dancers) remains relatively sparse among practitioners. The intent of this conference is to educate a diverse population, including physicians, APPs, dietitians, physical and occupational therapists, chiropractors, dance instructors, and dancers about the important core concepts in Dance Medicine, particularly the importance of biomechanics and multidisciplinary care.

Featured Speaker
Misty Copeland is a Principal Dancer with American Ballet Theatre, the first Black woman to be promoted to the position in the company's 75-year history in 2015. She has performed some of the most iconic classical ballet roles, including Odette/Odile in Swan Lake; Juliet in Romeo & Juliet; Giselle; Manon; Coppelia; Kitri in Don Quixote; and Firebird, to name a few.
Misty has been featured in several publications, including the cover of Time Magazine for the Time 100, as well as the covers of ESSENCE, Self, ELLE South Africa, Oxygen and Women's Health. She has also appeared on CBS' 60 Minutes, CBS Sunday Morning, ABC's Good Morning America, NBC's The
Today Show and Little Big Shots, celebrating extraordinary young people.
She made her first awards season guest performances in 2019 with Taylor Swift at the American Music Awards and at the 2020 Grammy Awards alongside Camilla Cabella, Common, Ben Platt, and dancers from the Debbie Allen Dance Academy, as well as the televised Prince Grammy Tribute performing with award-winning recording artist H.E.R. Misty made her Broadway debut in On The Town in 2015 and her major motion picture debut in Disney's The Nutcracker and the Four Realms in 2018.
Misty started her production company, Life In Motion Productions, and is working on her first project,
Flower, a silent arts activism film using dance to help raise awareness about homelessness. She is also
featured in an episode of MasterClass, the online series.
Misty is an avid philanthropist and is an ambassador of the Boys & Girls Clubs of America, of which is
also an alum, and MindLeaps, an arts education program based in Rwanda that helps young people get
off the streets and into an academic setting to help enhance their lives. Misty is the bestselling author of the New York Times bestselling memoir Life In Motion; an award-winning children's picture book titled Firebird; a New York Times bestselling lifestyle book titled Ballerina Body; and the New York Times bestselling children's picture book, Bunheads. Her newest book, Black Ballerinas: My Journey To Our Legacy, published in Fall 2021.

Who Should Participate: Physicians (including residents/fellows), physical therapists, athletic trainers, dietitians, psychiatrists, dance/technique faculty, dance students and community members interested/invested in the performing arts.

Visit our course catalog for all the event details or view this program brochure.
Upon completion of this conference, participants should be better able to:
Identify opportunities for communication during "transition points" in care and how these can be optimized.
Increase ability to take a dance-specific history, taking into account dance terminology/knowledge and dance-specific biomechanics.
Determine pointe-readiness in a dancer (that is, knowledge of, and ability to apply standards for flexibility, strength, and technique that would permit safe pointe participation).
Describe "normal abnormalities" on imaging for dancers and distinguish these from those of clinical concern.
Identify biomechanical flaws in dance technique or loading and apply this information to the differential diagnosis, intended rehabilitation program, and future injury mitigation strategy for a dancer.
Increase the specificity of a physical examination to enhance injury detection and to assist in determination of injury etiology.
Incorporate mental health discussions with dancers and suggestions for resilience-building strategies.
Identify patients who could benefit from orthobiologic or chiropractic intervention and understand how these interventions can supplement (or improve) MSK intervention in dancers.
Identify in-season and between-season opportunities for cross training and performance enhancement.
Identify the importance of pointe-shoe fit as well as common fitment errors and opportunities to intervene with fitment changes to decrease injury risk.
Cost and Registration
$250—Faculty level or equivalent, including MD, DO, DPT, PhD, DC
$150—Affiliated health professional including PT, OT, PTA, ATC, PA-C, RD, dance instructor, or MD/DO
resident/fellow
$50—Student
$75—Community Members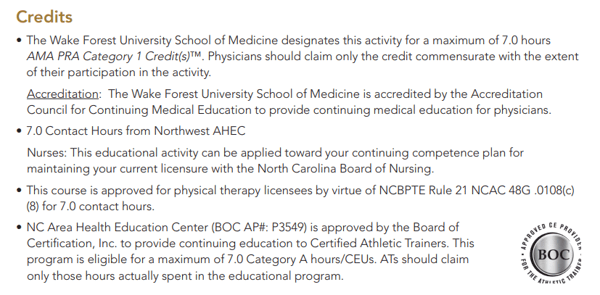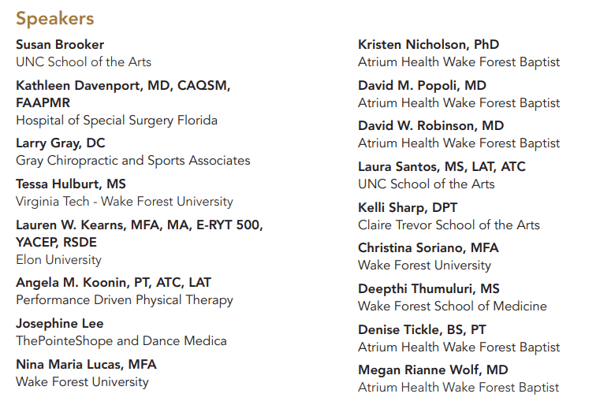 Provided by:
Northwest Area Health Education Center (AHEC), a program of Wake Forest University School of Medicine and part of the NC AHEC System and Physical Medicine and Rehabilitation at Atrium Health Wake Forest Baptist.