Attracting and retaining top talent while keeping the country safe is a daunting task, but the 14,000 employees at Wake Forest Baptist Health would recommend their employer to others making it #18 of America's Best Large Employers in 2021.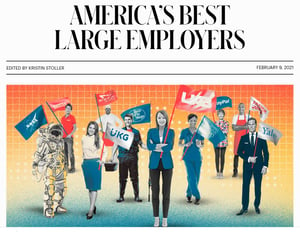 Forbes partnered with market research firm Statista to compile the list by surveying 50,000 Americans working for businesses with at least 1,000 employees. Participants were asked to rate their willingness to recommend their own employers to friends and family, and to nominate organizations other than their own. The final list ranks the 500 large and 500 midsize employers that received the most recommendations.
A few other facts about Wake Forest Baptist Health:
Wake Forest Baptist Medical Center is a thriving, nationally renowned academic medical center. With 14,000 employees, it is Forsyth County's largest employer. It operates more than 1,000 acute care, psychiatric and rehabilitation beds.
Wake Forest Baptist Health is a pre-eminent academic health system based in Winston-Salem, North Carolina. Wake Forest Baptist's two main components are an integrated clinical system – anchored by Wake Forest Baptist Medical Center, an 885-bed tertiary-care hospital in Winston-Salem – that includes Brenner Children's Hospital, five community hospitals, more than 350 primary and specialty care locations and more than 2,500 physicians; and Wake Forest School of Medicine, a recognized leader in experiential medical education and groundbreaking research that includes Wake Forest Innovations, a commercialization enterprise focused on advancing health care through new medical technologies and biomedical discovery.

Wake Forest Baptist serves more than 2.3 million people in a 24-county referral area.

We're proud to have the only level 1 trauma center and separate children's hospital in the region. Wake Forest Baptist also has a dedicated Comprehensive Cancer Center and National Stroke Center. With 885 medical and surgical beds, Wake Forest Baptist admits more than 40,000 patients a year. Additionally, the center provides services for over a million outpatient visits.

We're committed to supporting ongoing research efforts and training effective clinicians. More than 1,200 faculty members at the Wake Forest School of Medicine direct the education of approximately, 2,000 medical, physician assistant and nurse anesthesiologist students, medical residents and fellows. and graduate students. In 2016, the School of Medicine received $177.3 million in research funding from 722 grants. The school is focused on improving the integration of its research programs with areas of major importance in population help and maximizing multidisciplinary and translational approaches.

Wake Forest School of Medicine's Northwest Area Health Education Center (AHEC), Center for Experiential and Applied Learning (CEAL), and Office of Continuing Medical Education partner to help you achieve your continuing professional education goals. Northwest AHEC and the Wake Forest School of Medicine have a collaborative partnership in offering certified continuing education to health professionals. The Northwest AHEC is an educational outreach and training program designed to enhance the health of the public in its 17-county region by improving the supply, distribution and quality of health and human service personnel—especially in primary care—through diverse community and academic partnerships.
Learn more and see all that Wake Forest Baptist Health has to offer on the Website