The UNC Greensboro School of Nursing has been awarded an educational mobility grant to support its Registered Nurse (RN) to Bachelor of Science in Nursing (BSN) program. The one-year grant for $97,950 will support the collaborations that the RN-BSN program has with regional community colleges, the Northwest Area Health Education Center (AHEC), and the North Carolina AHEC.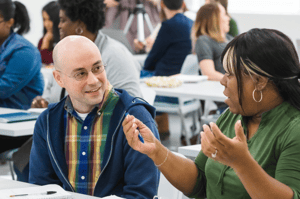 The grant will provide the RN-BSN program with funding for an academic success advisor and peer academic leaders for its online and hybrid cohorts. The grant will also cover faculty travel, educational materials, and supplies for four ongoing cohorts as well as the development of additional outreach cohorts.

"We are grateful for the AHEC Educational Mobility funding for our RN to BSN program at UNCG. This funding has allowed us to better support our working nursing students, which has been especially important for those enrolled during the COVID-19 pandemic," said Dr. Carrie Hill, clinical assistant professor and director of the RN-BSN program. "We are excited to keep developing our program and collaborating with our partners at AHEC."

UNCG's RN-BSN program will have eight cohorts with the addition of an online-only cohort starting this fall. Approximately 100 nurses are currently enrolled in the program, with hybrid (a combination of in-person and online) cohorts located in Greensboro, Winston-Salem, Thomasville, Roxboro, Dallas, and Graham.

For more information about the RN-BSN program, please visit the UNCG School of Nursing website or contact Dr. Hill at cahill5@uncg.edu.
Shared from UNCG. This entry was posted in Spartan Nurse News. Bookmark the permalink.