Our staff always loves this time of year and enjoy giving back to our community. This year may have been a little different than years past but we were able to continue our tradition of giving back through the Salvation Army of Winston-Salem Angel Tree. Here is a picture of our delivery to the Salvation Army.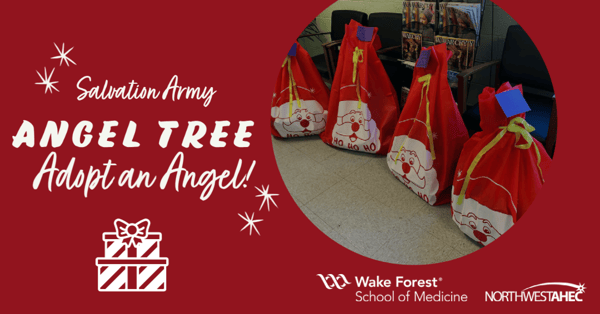 Our staff had the ability to search online and purchase presents and we also delivered some. There is so many ways to give back this year, make sure you research and do what you are able to do!
This year the need is greater than ever. Help the Salvation Army Rescue Christmas for our most vulnerable neighbors.
Here Are Ways You Can Help Rescue Christmas For Families In Need:
Adopt an Angel: This year Angels can be adopted and shopped for completely online! Adopt an Angel Then shop in person or at one of the online Gift Registries. View more info
Virtual Red Kettle: The COVID-19 pandemic means increased need among our most vulnerable neighbors so we're making it safer and simpler than ever to help. Take the Red Kettle Challenge! Set up a virtual Kettle with your business, church, community group, or individually, and you can help Rescue Christmas from the comfort of home! Virtual Kettle Info

Be a Bell Ringer:

COVID-19 means fewer kettle locations but we will be ringing and taking full safety precautions. The Red Kettles are more important than ever this year. You can sign up right now at registertoring.com