This two-day virtual conference, hosted by the UNCG and NCAT Joint Programs in Social Work funded through the Health Resources and Service Administration (HRSA) Opioid Workforce Education Program, will offer students, behavioral health and substance use professionals, field instructors, and community partners opportunities to learn from experts in the field of substance use prevention, treatment and recovery from a cultural humility and racial equity lens.
Opioid Workforce Expansion: Advancing Racial Equity, Inclusive Practices, and Cultural Humility among Future Behavioral Health Practitioners

February 23 & 24, 2022
1:00PM - 4:00PM

Presentations will include engaging, evidence informed, and practical information on topics related to racial equity, inclusive practices, cultural humility, and social justice; faith-based and harm reduction models, reproductive health; as well as approaches for supporting specific communities including adolescents, college students, older adults, and LBGTQIA+ individuals.

The conference is designed to give attendees information that can immediately be adapted and applied to improve health outcomes for patients and families.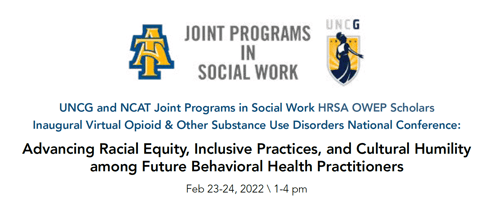 Speakers:

Victor Armstrong, MSW, Chief Health Equity Officer, NC Department of Health and Human Services

Domniquie Clemmons-James, PhD, LCMHC, CRC, BCB, Clinical Counselor, Collegiate Recovery Community Coordinator, NC A&T State University

Yarneccia D. Dyson, PhD, MSW, Co-Principal Investigator, UNCG & NCAT Joint Programs in Social Work, HRSA OWEP Scholars, UNC-Greensboro

Ryan Estes, MBA, LCSW, LCAS, CCS, Chief of Clinical Innovation and Technology, Specialized Alternatives for Families and Youth (SAFY) of America

Melissa Floyd-Pickard, PhD, LCSW, Co-Investigator, UNCG & NCAT Joint Programs in Social Work, HRSA OWEP Scholars

Monica Williams Harrison, MSW, LCSW, NASW board Director (Region II) and Consultant

Haner Hernández, PhD, CPS, CADCII, LADCI, Consultant and Trainer, New England Addiction Technology Transfer Center Network (ATTC)

Suk-hee Kim, PhD, COI, MSW, Associate Professor, Northern Kentucky University School of Social Work

Minister Michelle Mathis, Executive Director, Olive Branch Ministry

Tracy R. Nichols, PhD, Professor, UNCG Provost Fellow for Faculty Development, UNC-Greensboro

Dinah Ortiz, Vice Chair, NC Urban Survivors Union

Kelly Jay Poole, PhD, LCSW, Co-Investigator, UNCG & NCAT Joint Programs in Social Work, HRSA OWEP Scholars

Tina Reynolds, MSW, Owner and Chair, Women on the Rise Telling HerStory (WORTH)

Jerry St. Louis, LGSW, Doctoral Candidate, Social Worker, Colors of Healing, Graduate School of Education and Human Development at The George Washington University

Danielle C. Swick, PhD, MSW, Principal Investigator & Director, UNCG & NCAT Joint Programs in Social Work, HRSA OWEP Scholars, UNC-Greensboro


Louise Vincent, MPH, Executive Director, NC Urban Survivors' Union
Credit

5.5 Contact Hours from Northwest AHEC

Northwest AHEC is recognized by the North Carolina Psychology Board as an approved provider of (Category A) Continuing Education for North Carolina Licensed Psychologists. This program will provide 5.5 contact hours of (Category A) continuing education for North Carolina psychologists. No partial credit will be given.

Application has been submitted for 5.5 contact hours of Substance Abuse Specific credit from the North Carolina Addictions Specialist Professional Practice Board.

This program does not provide specific NBCC Credits. However, per LCMHC licensure guidelines, you may submit up to 15 contact hours of continuing education by attending programs by affiliates of the National Area Health Education Center Organization (NAO). Northwest AHEC is a member of the NAO.