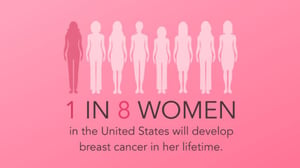 Breast cancer is the most common cancer in American women, except for skin cancers. It is estimated that in 2021, approximately 30% of all new women cancer diagnoses will be breast cancer. In 2021, an estimated 281,550 new cases of invasive breast cancer will be diagnosed in women in the U.S. as well as 49,290 new cases of non-invasive (in situ) breast cancer.

There are 2 main types of breast cancer:

Ductal carcinoma starts in the tubes (ducts) that carry milk from the breast to the nipple. Most breast cancers are of this type.
Lobular carcinoma starts in the parts of the breast, called lobules, which produce milk.
In rare cases, breast cancer can start in other areas of the breast.
October is Breast Cancer Awareness Month, marked in countries across the world, helps to increase attention and support for the awareness, early detection and treatment as well as palliative care of this disease.

Currently there is not sufficient knowledge on the causes of breast cancer, therefore, early detection of the disease remains the cornerstone of breast cancer control. When breast cancer is detected early, and if adequate diagnosis and treatment are available, there is a good chance that breast cancer can be cured. If detected late, however, curative treatment is often no longer an option. In such cases, palliative care to relief the suffering of patients and their families is needed.

What Are the Symptoms? Know what to look for. There are different symptoms of breast cancer, and some people have no symptoms at all. If you have any signs that worry you, see your doctor right away. Symptoms can include:

Any change in the size or the shape of the breast.
Pain in any area of the breast.
Nipple discharge other than breast milk (including blood).
A new lump in the breast or underarm.
How Can I Lower My Risk? You can do things to help lower your breast cancer risk.
Keep a healthy weight and exercise regularly.
Don't drink alcohol, or limit the amount of alcohol you drink.
If you are taking hormone replacement therapy or birth control pills, ask your doctor about the risks.
Breastfeed your children, if possible.
Northwest AHEC joined up on October 1st to Wear it Pink during our morning team huddle. Check us out below...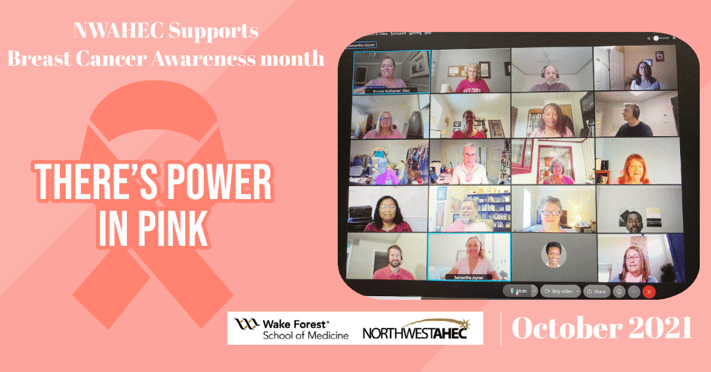 Other Breast Cancer Resources: