For over 30 years, the NC Area Health Education Center RN Refresher Program has helped thousands of nurses rejuvenate their careers and go back to work. Now more than ever, our state needs nurses. The program is offering a discount for the program through April 30th.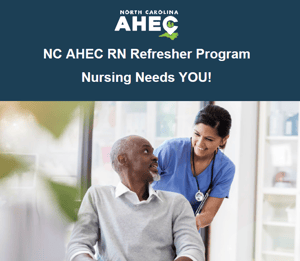 Update your nursing knowledge and skills with our online, self-paced program provided by NC AHEC, UNC-Chapel Hill's School of Nursing and Digital and Lifelong Learning. Clinical opportunities occur in your AHEC region. Learn more about how you can return to nursing by clicking here: NC AHEC RN Refresher Program.

In addition to our traditional program, from February 1 – April 30, 2022, the NC AHEC RN Refresher Program will offer a discounted, accelerated version of the course for qualified applicants to address our nursing workforce needs.
"Best preparation for re-entering field as an RN after a 13 year sabbatical. UNC-Chapel Hill is an incredible institution & their professors ALWAYS returned my email questions with 24-48 hours."
- South East AHEC
"I wanted you to know I have found a job that is perfect for me in a place I never would have thought to look. I took a position in pediatric homecare... Thanks for helping me through this process."
- Eastern AHEC
Carolina offers discounted tuition for online nurse refresher program to address statewide nursing shortage

Press Release from UNC School of Nursing, February 1, 2022

The program will help trained and licensed nurses quickly get back into the field as the state faces a serious nursing shortage.
The University of North Carolina at Chapel Hill is helping to address the state's looming nursing shortage by making it easier for nurses to re-enter the workforce. Today, UNC-Chapel Hill Digital and Lifelong Learning, the UNC-Chapel Hill School of Nursing and the North Carolina Area Health Education Centers Program announced they will offer discounted tuition for an accelerated version of their online, self-paced Registered Nurse Refresher theory course through April 30 of this year.
The pandemic has underscored an urgent need for experience healthcare professional across our state, but North Carolina faced a shortage of nurses long before the pandemic began. A workforce model recently developed by Cecil G. Sheps Center Program on Health Workforce Research and Policy projects a shortage of 12,500 registered nurses – about 11% of the RN workforce — by 2033. This nurse refresher program will help previously trained and licensed nurses quickly return to the profession.
"The shortage of nurses across the state has become an even greater concern during this pandemic" said Peggy Wilmoth, interim dean of the UNC School of Nursing. "We're hopeful that by offering this fast-track program, nurses will be able to quickly and affordably return to the workforce and provide North Carolinians with the care they need."
Students who enroll in the accelerated RN Refresher program between February 1 and April 30 will receive a tuition discount of $250. The program includes a self-paced, online theory course and a clinical practicum, and registered nurses living anywhere in the United States are eligible to enroll. The program for registered nurses can be utilized by both those who have lapsed in their licensure and active RNs who are looking to refresh and update their knowledge.
Historically, the theory course takes up to nine months to complete. To graduate nurses in time to meet the highest need, the accelerated version must be completed in three months. The condensed timeframe provides nurses the same breadth of knowledge and training in the most updated technology and approaches.

Nurses who want to apply for the program and discounted fees can visit https://nurserefresher.web.unc.edu/accelerated-offer/ for more information.
Read our past blog about RN Refresher Program - "Return to nursing or reactivate your license with NC AHEC's RN Refresher program"