A Statewide Health Careers Summer Program for rising 12th grade students
The North Carolina AHEC Pre-Scholars Institute aims to provide professional development and mentoring to historically underrepresented students interested in pursuing a career in health care. Students will thoroughly enjoy health science workshops taught by health science faculty from across the state of NC, health care professional guest speakers, games and more! Our goal is to expose and prepare teens for a variety of careers in healthcare in a fun and exciting way. We believe in funrichment (fun+enrichment)! The content will be delivered via live webinar and online modules.
Program Information:
July 12-16, 2021 | 8:45 AM – 12:15 PM. All meetings will be hosted via live webinar.
To Apply: (Deadline to apply is April 15, 2021)
Email To mgmills@wakehealth.edu
Participants will be notified via email by May 1, 2021.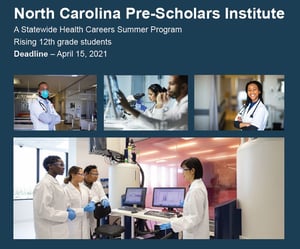 To be eligible to participate, students must meet the following requirements:
Rising seniors from across the state of NC
3.0 GPA or higher
Affiliated or recommended by a NC AHEC Program
Access to internet
Program Fees: No Cost to the Student Supported in part:
HRSA Point of Service Maintenance and Enhancement Award
NC AHEC Program
North Carolina Alliance for Health Professions Diversity
What's In It For the students (tentative activities):
Meet students from across the state of NC
Health science enrichment taught by college level faculty from across the state of NC
Health science games! Fun! Fun! Fun!
Health Science College Recruitment Fair – meet college admissions representatives from across the state of NC
Opportunity to be paired with a mentor after the conclusion of the program
Looks GREAT on your college application!