Understanding that your time is valuable, a NW AHEC Copyright Basics LibGuide has been created for any healthcare professionals to allow you ample time to help answers your copyright questions in a timely manner.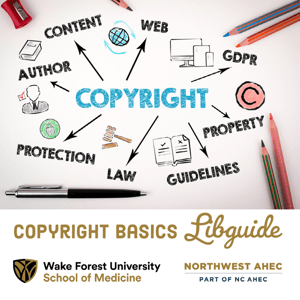 The Libguide is available to you through North Carolina AHEC Digital Library website page under "Research Guides" on the dashboard of the page, scroll down and click on "Northwest AHEC," and then scroll down to "NW AHEC Copyright Basics," or you may use the website URL: https://ncahec.libguides.com/nwcopyright.


We are here to support the work you all do, so we will make time that is most convenient for you and your staff if you have any questions, please contact your librarian.
| | |
| --- | --- |
| Contact: | |

The AHEC Digital Library (ADL) is your portal to AHEC library services, information, and education. The ADL ensures that all providers in the state have high-quality health information readily available through a variety of membership categories, ranging from access to free resources to paid subscriptions. By using the ADL, you can get full-text journals, books, and electronic databases of the literature, as well as links to carefully evaluated health information websites and clinical and educational tools.