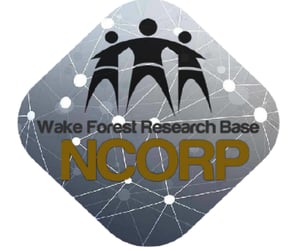 Held in October 2020, the 7th Annual NCORP (NCI Community Oncology Research Program) Research Base event will be one that attendees will never forget. The event was ENTIRELY VIRTUAL this year as we continue to push through the COVID-19 Pandemic and presented via livestream webinar with small group discussions. We are happy to report that the attendance was the highest it has ever been this year and participants were extremely pleased with the meeting! With the event being held in a virtual format, it provided the opportunity for inclusion of more speakers from around the country to come and share their knowledge with attendees. It also allowed for increased participation by interested attendees thereby increasing exposure and knowledge about the Wake Forest NCORP research base activities.
With 235 attendees and a total of 38 presenters, we had a jam packed program filled with updates on cancer care delivery. Attendees walked away with 9.25 contact hours of educational credit including CME and nursing credit.
Sure, the face to face meeting would have been a delight with more networking and conversations, but we consider this program a huge success and we will hopefully see you all in person next year!


"We are extremely pleased with the success of the NCORP Event. This virtual meeting familiarized attendees with a current understanding of the etiology and treatment options for selected unmet cancer and treatment related symptoms, toxicities, and Cancer Care Delivery Research challenges. It also reviewed the current and planned studies developed by the Wake Forest NCORP Research Base addressing these issues." - Glenn J. Lesser, MD, FACP (Activity Director for Meeting)
Glenn Lesser

Glenn Lesser (left), Ruth Wright (right)
Karen Winkfield
(picture of presenter on screenshot)

View Program Brochure and Agenda Here


The Wake Forest NCORP (NCI Community Oncology Research Program) Research Base is one of seven research bases funded by the NCI to develop and implement cancer prevention and control research for the NCORP community oncology research network.