Northwest AHEC was the host for the NC AHEC Statewide Meeting & Celebration for the 50th Anniversary of AHEC in North Carolina. In December 2022, we welcomed our friends from across the state to Winston-Salem for a 3-day conference and evening 50th Anniversary Celebration. #NCAHEC50th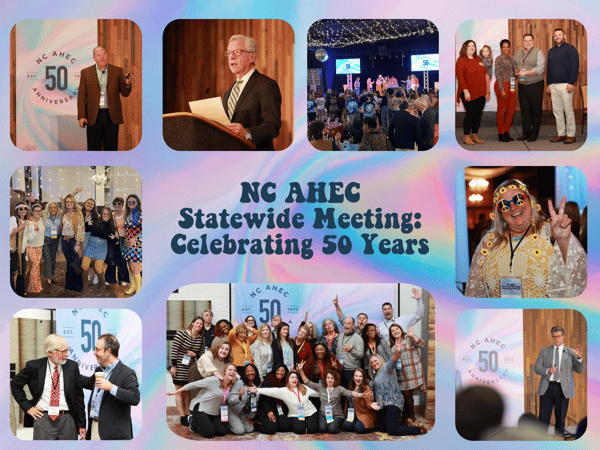 We were very excited to gather for our Statewide Meeting after a long hiatus due to COVID. We convened together in person, gathered in inspiration from our presenters, learned from one another and celebrated our 50th anniversary. Special thanks to the Winston-Salem Marriott Downtown and the Benton Convention Center for hosting our event and the Millennium Center for helping us plan an EPIC celebration!
By gaining an understanding of the health workforce challenges in our state, we can more intentionally collaborate to develop solutions for the future. NC AHEC is built on a firm foundation. Together we can ensure that we continue to work towards our result - a North Carolina where everyone is healthy and supported by an appropriate and highly competent health workforce that reflects the communities it serves.
On behalf of the planning committee, thank you to all attendees for your support of the 2022 NC AHEC Statewide Meeting. Everyone who attended played a role in making the Meeting a success and NC AHEC's 50th year memorable.

Photos and videos from the Meeting can be viewed at the following links: