The NC AHEC Scholars Program at Northwest AHEC recruits, trains, and supports a diverse group of students from across the state, creating a multidisciplinary team of health professionals committed to both community service and the transformation of health care in North Carolina.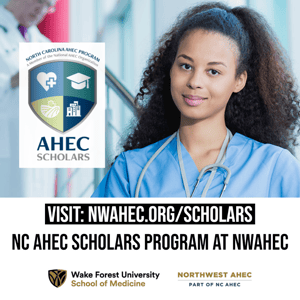 We seek individuals who are committed to improving health and health care, devoted to community service, and interested in improving their own skills and in working with other professionals in team-based care.

With an emphasis on individuals from underrepresented minority populations and/or from disadvantaged/rural backgrounds, as well as first-generation college students, the NC AHEC Scholars Program at Northwest AHEC aims to improve the diversity and distribution of all health professions and to support health systems transformation across the state. Each class of NC AHEC Scholars represents a variety of health professions and institutions from every region of North Carolina.
Northwest AHEC partners with three institutions for the Scholars Program, Salem College (SC), Wake Forest University (WFU) and Winston-Salem State University (WSSU). We coordinate to recruit seven students per year from each campus that are focused on a career in health
Learn how to apply and more on our website!
Check out this video testimonial of a NC AHEC Scholar at Northwest AHEC
As an NC AHEC Scholar, you'll:
Supplement and enrich your education
Receive a $1000/year stipend
Participate in 40 hours of didactic and 40 hours of clinical work each year
Have the opportunity to network with fellow students and health care professionals
Gain access to unique experiences to help you thrive in health care
Receive an NC AHEC Scholars Certificate, which sets you apart from other students in an increasingly competitive environment
Program Eligibility
NC AHEC Scholars at Northwest AHEC:
Must be enrolled in a college-level health professions education training program at SC, WFU, or WSSU by August 31, 2023
Must have reliable access to Wi-Fi
Must have reliable transportation
Eligible to work inside the United States
Program runs September 2023 through April 2024
Learn how to apply and more on our website!