Registration is Now OPEN so sign up to join us on Friday & Saturday, October 1-2, 2021 at the BEACH! Check out all the details below.
Dear Colleagues,

We are delighted to welcome you to our annual Wake Forest Update on Hospital Medicine Conference. Following prior successful and enriching conferences, our team strives to support the continued education of our fellow hospitalists. In an ever-growing, comprehensive field, remaining current with guidelines and literature can be challenging. Using evidence-based medicine, this conference provides the latest updates on Hospital Medicine that you can implement in your daily practice. We invite you to this intensive 2-day course where you will engage with other hospitalists, as well as expert faculty, in lectures and a hands-on POCUS course covering up to a dozen topics. We look forward to this educational weekend with physicians, residents/fellows, advanced practitioners, and medical students. We hope to see both new and familiar faces in Hilton Head, South Carolina on October 1-2, 2021!

Sincerely,

Sarah McCollum and Chi Huang
Sarah B. McCollum, PA-C, MSPAS, CAQ: HM
Course Director of Wake Update in Hospital Medicine 2021
Wake Forest Baptist Health System
Section on Hospital Medicine

Chi Huang, MD, SFHM, FACP


Executive Medical Director of General Medicine and Hospital Medicine Shared Services
Wake Forest Baptist Health System
Section Chief of Hospital Medicine
Department of Internal Medicine
Associate Professor of Internal Medicine
Wake Forest Medical School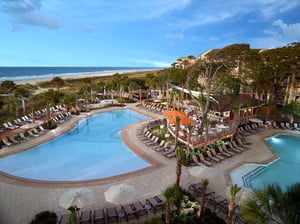 Upon completion of this program, participants should be able to:

Formulate a first-line treatment plan for the different stages of pulmonary HTN.

Illustrate how palliative care principles are best integrated with disease-directed treatment plans.

Explain basic tracheostomy care for a standard patient.

Identify common pathologies on abdominal CT: Diverticulitis, free air/perforations, gut wall edema, ascites.

Identify when it's appropriate to focus on rate vs rhythm control in newly discovered or newly recurrent atrial fibrillation.

Define updates in antibiotic regimens for common hospital medicine admissions: Pneumonia, Osteomyelitis, UTI/pyelonephritis and Endocarditis

Discuss what medications can be given for support/treatment of SUD.

Recognize when a patient should be started on NIPPV.

Describe some of the major points on systems- and individual-level contributors to burnout and well-being in health care providers.

Describe the recent advances in the management of patients with stroke including the role of telemedicine.


Identify the latest evidence-based hospital medicine literature from top-tier journals.

Learn placement for the ultrasound probe to estimate EF and visualize pericardial effusion.

Registration is open so make sure to sign up to join us at the beautiful Omni Hilton Head Oceanfront Resort in Hilton Head, SC. Register now for the early bird rate of $400!

Visit our website to learn more or view the program brochure for details.

Guest Faculty


Mike Maresca, MD


Radiology




Canton-Potsdam Hospital




Potsdam, New York


Wake Forest School of Medicine Faculty


Luis Barroso, MD
Infectious Diseases
Dale Browne, MD
Otolaryngology
Suzanne Danhauer, PhD
Social Sciences and Health Policy
Kate Gershner, DO
Pulmonary and Critical Care
Casey Glass, MD
Emergency Medicine
Amy Guzik, MD
Neurology
Chris Kelly, MD
General Internal Medicine
Buddy Marterre, MD, MDiv
Gerontology and Geriatric Medicine
Raj Nagaraj, MD
General Internal Medicine
Rudy Pascual, MD
Pulmonology and Critical Care
Kelsie Pierre, MD
Addiction Medicine Fellowship
Karl Richardson, MD
Cardiology
Kinchit Shah , MD
General Internal Medicine