Each year millions of Americans face the reality of living with a mental illness. During May, Northwest AHEC joins the national movement to raise awareness about mental health.
Now more than ever we need to find ways to stay connected with our community. No one should feel alone or without information, support and help they need. Mental health conditions are more common than you might realize — they affect about 20% of people living in the U.S.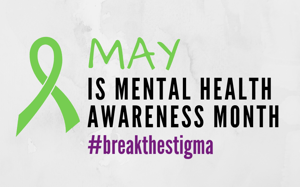 Anxiety disorders are the most commonly diagnosed mental health condition, affecting about 18% of the population. Other common mental health conditions include: Depression, Post-traumatic stress disorder (PTSD), Bipolar disorder, Substance use disorder, Personality disorders, Schizophrenia, and Eating Disorders.
More than half of people with a mental illness don't receive treatment, according to Mental Health America. And about 10% of those with a mental illness don't have health insurance.
Effects of the COVID-19 pandemic on mental health
The pandemic has been unique among major crises in that it has impacted everyone, regardless of who you are or where you live. It also had a big impact on many people's mental health.
The Kaiser Family Foundation found that during the pandemic, 4 in 10 adults in the U.S. reported symptoms of anxiety or depression. That's up from 1 in 10 adults in the first half of 2019.
President Joe Biden highlighted the pandemic's impact on mental health. "Mental health is essential to our overall health, and the importance of attending to mental health has become even more pronounced during the COVID-19 pandemic, which has not only negatively impacted many people's mental health but has also created barriers to treatment," Biden said.
Where to Look For Help
If you or someone you love has signs of a mental health issue, there are many types of mental health services available. These options might include:
Individual counseling
Group therapy
Medication
Mental health education
Peer support groups
Inpatient care at a treatment center, hospital, or residential program
To start your search for mental health treatment, try your regular healthcare provider. They may have recommendations for psychotherapists, psychiatrists, or other mental health services in your area.
Continuing Professional Development in Mental Health
Northwest AHEC Behavioral Health Continuing Education is committed to addressing consultation and training needs of mental health professionals within our 17-county region. Our Behavioral Health Coordinator is available to provide consultation services.


Ellen Kesler, MPH, MLS, CPH, Behavioral Health Coordinator, ekesler@wakehealth.edu

We respond to individual and staff training requests through collaborations and partnerships.
Check out our upcoming programs on Mental Health on Our Course Catalog!