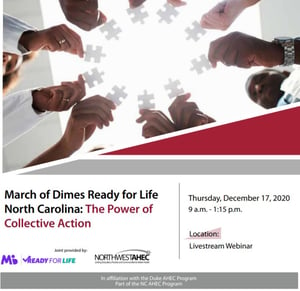 March of Dimes Ready for Life NC:
The Power of Collective Action

Livestream Webinar
December 17, 2020
9:00am - 1:15pm
FREE to attend - registration required!
Ready for Life North Carolina, formerly the North Carolina Preconception Health Campaign, is a March of Dimes public health education campaign aimed to reduce maternal and infant death with an intense focus on African American communities. Roughly half of pregnancies in NC are unintended. This webinar will offer tools to assist health care professionals with supporting patients in understanding the benefits of reproductive life planning along with the medical consequences associated with a lack of planning.

Objectives:
Understand why a collective action approach was chosen to be implemented in Guilford County.
Identify the key steps to implementing the process of a collective action approach in reducing infant mortality.
Assist with prioritizing key strategies for implementation of a collective action approach to reduce the rate of infant mortality.
View more information and register here
Agenda
8:45 a.m. Log into Webinar
9 a.m. Welcome/Data Overview: Danielle Little, BA, CLC, Heath Educator / Program Coordinator, March of Dimes
9:30 a.m. Ready for Life Preconception Health Topic: Michaela Penix, MPh, Director, Maternal Infant Health, March of Dimes
10:30 a.m. Break
10:35 a.m. Break-out Sessions
11:35 a.m. Break-out Reflections
11:50 a.m. Break
12:00 p.m. The Power of Collective Action: Guilford County's Approach to Reducing Infant Mortality: Jean Workman, MA, Executive Director, Guilford County Coalition on Infant Mortality
1 p.m. Q&A
1:15 p.m. Adjourn
Speakers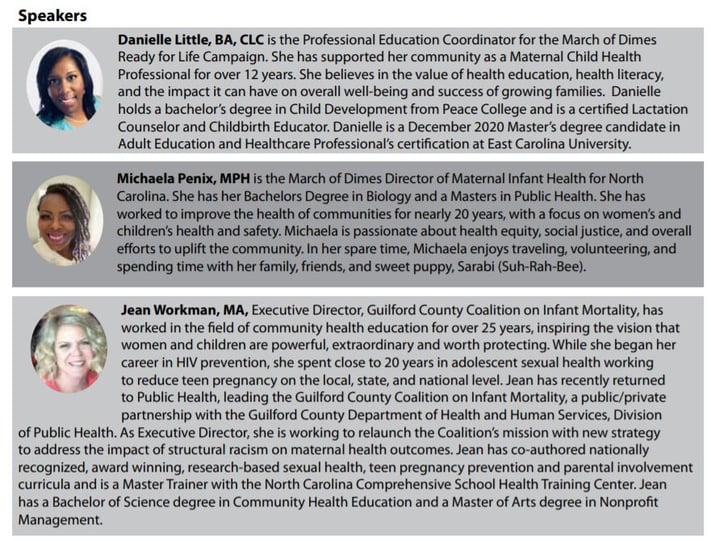 View more information and register here