Hi there, Imagine yourself enjoying the sun and listening to the waves...Now make sure you register so you can make that a reality in July!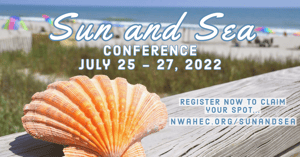 We invite you to join us July 25 - 27, 2022 at Kingston Plantation/Embassy Suites in Myrtle Beach, SC! An Interprofessional Conference Designed for Advance Practice Practitioners, Dentists, Registered Nurses/Licensed Practical Nurses and Physicians.
One interprofessional conference bringing together multiple healthcare professionals to an amazing beach resort in beautiful Myrtle Beach, South Carolina. This conference features education for Advance Practice Practitioners, Dental, Medical, and Nursing Professionals with opportunities for shared learning experiences on the current trends influencing these disciplines. We hope you will join us for this three-day educational experience!


More details have been posted on the event webpage - including speakers and agenda! Take a look and Register today!


July 25 - 27, 2022

Kingston Plantation / Embassy Suites in
Myrtle Beach, SC
Registration Fee:
$255 – Nurses, Dental Assistants, Dental Hygienist
$385 – MD/DO, PA, NP, DDS
Objectives
At the conclusion of this activity, participants should be better able to:
Define the concepts of aging.
Identify age related oral changes.
Discuss a systemic approach to treating older adults.
Discuss practice interventions for improved treatment and quality of life.
Learn the criteria and rationale for using anti-obesity pharmacotherapy.
Identify the three most common types of bariatric surgery and emphasize importance of the primary care practitioner in long term management.
Identify typical weight loss patterns after surgery and how to approach patients at high risk or currently experiencing weight regain/ disease relapse.
Identify both medicated assisted and non-medicated assisted strategies for treating insomnia and other sleep disturbances.
Review the pathophysiology of CAD and be able to differentiate between the major clinical presentations of CAD.
Identify current practices and pharmacologic management of CAD based on guideline-directed medical therapy.
Explain the components of a comprehensive plan of care for CAD patients by incorporating thorough education and resources into the patient's care.
List basic vaccine preventable disease investigation questions.
Outline vaccine preventable disease control strategies.
Discuss lessons learned from recent outbreaks.
Identify the process of de-prescribing and some practical strategies for implementing it in the clinical setting.
Identify key risk factors for suicide during the COVID-19 pandemic.
Identify self-care strategies to prevent or manage burnout.
Describe post-COVID complications.
Discuss alternative pain management modalities.
Explain the opioid misuse epidemic during a pandemic.
Discuss the recognition of deceptive behavior as it relates to substance misuse.
Cite current trends in pain management treatment.
Develop an understanding of cultural diversity and competence in the diagnosis and treatment of patients.
Address social determinants of health as they relate to evidence-based patient care.