On this edition of Healthcare Insights Podcast Andrew Brewer spoke with our fearless leader, Michael Lischke, on his journey to where he is today. Take a listen and see all they discussed or read some of the highlights here on our blog.
Listen to the Full Podcast on Soundcloud
Who is Michael Lischke and How Did He Get Here?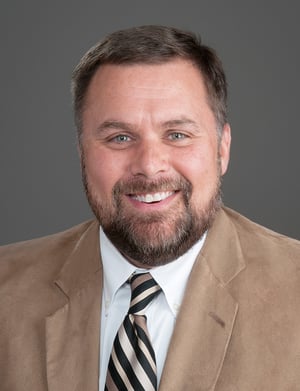 Michael P Lischke, EdD, is 28 year veteran administrator and educator – holding the current titles of Associate Dean for Continuing Medical Education, Richard Janeway MD Distinguished Director of Northwest Area Health Education Center, Associate Professor Family & Community Medicine, and Adjunct Professor in the Maya Angelou Center for Health Equity. (You can read his full bio here)
Michael grew up in Dayton, Ohio in a large catholic family. His Father was first to go to college in his generation with his undergrad and also completed MBA program. Michael was accepted to Emory University for undergrad where he graduated with his Bachelor's degree in 1990, enjoying college so much he decided to keep going and graduated with a Masters in Public Health from Emory in 1992. He lives by the notion that "Networking and knowing the right people gets you a long way in life".
After becoming engaged after college he was hired right out of gate by Hahnemann University (now known as Drexel School of Medicine) as Director of Medical School Admissions. "Never burn a bridge because everyone is connected, especially in the medical school environment" Michael shares some advice he's learned along the way.
Now to how he got here…Michael's "better half" as he calls her, Dr. Aimee Lischke finished medical school and chose Bowman Gray School of Medicine for her Family Medicine Residency. He calls himself the "trailing trophy spouse" because he was able to get a position 25 years ago with Wake Forest School of Medicine as the Senior Assistant to the Dean. He worked with Dean Jim Thomason on duties as assigned, since this was a new position.
Leadership shifting and a vacancy allowed him to get the role he currently serves in Northwest AHEC. The Dean at the time Doug Maynard asked him if he was interested in a new role. Which he's been in the Director of Northwest AHEC since 1999, now 21 years in this current role. He credits Leigh Watkins, who is still an employee with Northwest AHEC, to help him get settled in and make connections when he first started.
Mission Statement for NWAHEC: The Northwest AHEC of Wake Forest School of Medicine provides and supports educational activities and services with a focus on primary care in rural communities and those with less access to resources to Recruit, Train, and Retain the workforce needed to create a healthy North Carolina. We remain committed to bringing more health care opportunities and expertise within reach of more people throughout the 17-county region of Northwest North Carolina.
In his own words Michael defines the purpose of NWAHEC "As a regional resource for everybody in healthcare education and delivery world. What can we leverage to help our community?"
Big Changes Over the Years – In the past if there was educational need, Northwest AHEC always was just a phone call away. As healthcare has shifted from the service world, to more of a business/revenue/reimbursement component – Michael highlighted that he has noticed the use of education to promote clinical market growth. "If there is an educational deficit – I'm all in. But if it is not I will walk away." Michael says on staying true to our mission.
Health Careers and Workforce Diversity - What Michael has learned from working with students is that they are incredibly passionate, which you have to be in the health care profession. In working with students during Share the Health Fair at Wake Forest School of Medicine and Winston-Salem State University Students he says "It's been so refreshing and energizing to see how clear they are on the need and what they want to do to address it. They are driven to fix the problem." One of the things Michael enjoys working with them on is the planning and implementing projects, like leveraging grant funds to help with budget. An example of this is creating the initiative Community Plunge, which is a community asset tour of places like Goler Community Church which give insight into the community.
At Northwest AHEC we strive to ensure that every student, grades 9-12, post-secondary and in professional schools, in the region is aware of and excited about the broad spectrum of health careers as viable and attainable career options. View more information about our programs
Shining light on Social Determinants of Health - Having a public health background, ML knew the full aspect of the needs of the health. The new term Social determinants of health is old school public health – the new term helps energize the needs and brings more light on these important topics. At Northwest AHEC we have a goal to have these important topics as a part of our daily planning and educational offerings. We also have a list of resources to help guide the delivery of care and training provided as part of our goal to enhance the health of the public. View helpful SDOH Resources, Toolkits, and More info here
Building around Social Determinants of Health – NCCARE360 is a resource Northwest AHEC and statewide NCAHEC is currently which is a more coordinated approach for delivering care. Six webinars are being provided on topics to help unite health care and human services organizations for person-centered approach.
Pandemic Lessons Learned – On the family side Michael has seen milestones in his kids' lives, just like everyone, that couldn't be fully celebrated due to COVID. But learning how to stay connected even with social distancing has been refreshing. The work from home and e-learning from home has also been interesting with how to have a productive work/school environment to keep some semblance of normalcy. Michael shared that "The level of stress for the medical professionals, including my wife, has been an incredibly eye opening experience." Reliance and adaptation has been huge for the Lischke family during the pandemic.
Michael has been involved with the roll out of COVID Vaccine at Wake Forest Baptist Health with the employee vaccine clinics, he helps with registration and moving employees along to ensure everyone gets their vaccine safely and timely. The protocol of the vaccine requires so many things that it takes a lot to ensure things are in place to get the vaccine. He's really enjoyed the positive energy in the clinics of seeing everyone so happy and hopeful getting their vaccine.
Contact Info
Michael Lischke, Ed.D., MPH
Associate Dean, Continuing Medical Education
Richard Janeway, MD, Distinguished Director of Northwest AHEC
Associate Professor, Family & Community Medicine
336-713-7744
mlischke@wakehealth.edu
More information at: school.wakehealth.edu/Faculty/L/Michael-P-Lischke
Learn more about Northwest AHEC on our website