One month from today our 2021 Interpreter Series begins! Each level will be offered as an online event. Get signed up at the link below.
Sign up today for the 2021 Summer Interpreter Training, which begins June 3rd! This series includes Pre-Coursework Plus Live Webinar. Participants are required to complete pre-coursework for each level before the live webinar. Check out the full details on our landing page!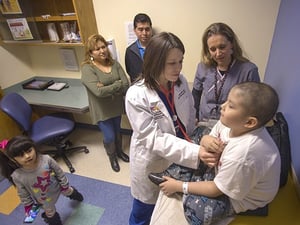 Level 1: Foundations of Professional Interpretation for Health and Human Services on June 3, 2021
The purpose of this program is to improve the skills of individuals who provide or wish to provide interpreter services in any language in health or human services settings. Participants will learn the primary roles, ethics and techniques of professional interpreting, with an emphasis on medical interpretation. The importance of cultural competence and confidentiality issues are stressed throughout the training. View details and registration information

Level 2: Interpreter Training for Health and Human Services: Skills Improvement, Ethics and Practical Study on June 9, 2021
This workshop reviews and addresses technical and ethical challenges that may arise while practicing the skills taught in Foundations of Professional Interpretation in Health and Human Services (Level 1). *Note: Only individuals who have completed Interpreter Training Level I may attend and must have access to their Level I manual. View details and registration information

Level 3: Medical Interpreter Training: Introduction to Anatomy/Physiology and Medical Terminology on June 17, 2021
The purpose of this class is to improve knowledge of health care and medical terminology in English and Spanish. Both formal and informal terminology will be reviewed, including pronunciation and definition of terms.*Note: Spanish proficiency in reading, writing, and speaking is required, as this course is taught in Spanish. It is highly recommended that interested participants have completed Interpreter Training Levels 1 and 2 and bring manual. View details and registration information

Level 4: Medical Interpreter Ethics and Standards of Practice; Sight Translation; and Introduction to Simultaneous Interpretation on June 23, 2021
This course provides an intense examination of foreign language interpreter ethics and national standards of practice. Principles and ethical standards from the National Council on Interpreting in Health Care (NCIHC), the International Medical Interpreters Association (IMIA), and the California Healthcare Interpreter Association (CHIA) are examined, compared, and contrasted.*Note: It is highly recommended that only individuals who have completed Levels 1 and 2 attend and bring their Level 1 manual. View details and registration information

Overview of National Professional Medical Interpreter Certification Exams on June 30, 2021
This workshop compares/contrasts the two main medical interpreter certification exams currently offered at the national level (CCHI and IMIA's National Board) and includes a review of sample written exams from both. View details and registration information
Download Program Brochure - Click here!