"This program is one that is near and dear to Northwest AHEC, since originating here 3 years ago from the leadership of a valued colleague, Dr. Roy Strowd at the Wake Forest School of Medicine. It's grown into this exceptional program through the NC Medical Society and now includes students from diverse interprofessional graduate health professions programs. This unique, multi-institutional and organization extracurricular activity is valuable to help develop the next generation of leaders to drive healthcare services across our State."

- Michael P. Lischke, EdD, MPH
Richard Janeway, MD, Distinguished Director of Northwest AHEC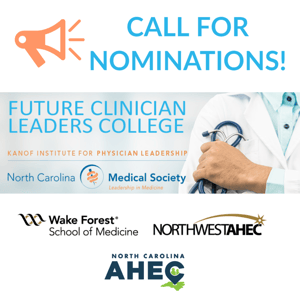 Call for Nominations for leadership development for health professions students
DEADLINE NOVEMBER 13th, 2020 11:59 PM EST

Are you a medical student, pharmacy student, physician assistant student, nursing student or other health professional student who wants to be a leader?

Are you interested in changing healthcare policy at your institution or in the state of North Carolina?

We are seeking nominations from students in North Carolina health professions training programs who are interested in a year-long state-wide interprofessional leadership development program. Accepted scholars hone personal leadership development skills with interdisciplinary healthcare trainees and engage with leaders from around the state of North Carolina.
Eligible applicants will be current medical students, physician assistant students, pharmacy students, nursing students, nurse anesthesia students or other health professional students who are in good standing with at least one year remaining in their current training. Students will have shown a prior commitment to leadership in healthcare and a strong future potential as a leader. Students will be required to attend four half-day workshops and three one-two hour seminar discussions.
Nominees should include the following a statement of support (from institutional dean) that ensures the applicant will be able to attend the sessions.
This program is sponsored by the NC AHEC and is thus tuition-free for accepted applicants.
Nominees will be evaluated by the Future Clinician Leaders College Program Committee based on the following criteria:
a) Prior commitment to leadership in healthcare
b) Strong potential for this program to impact the student's future career development
c) Commitment to attend all sessions
d) Local support from institutional mentor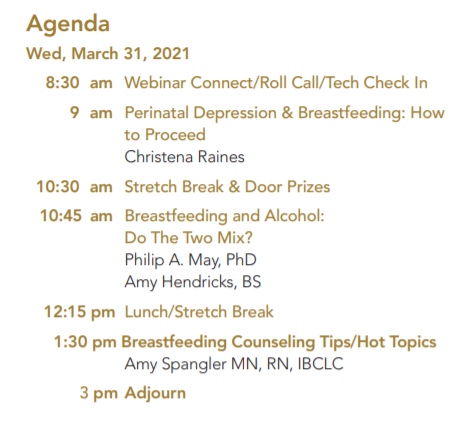 PROGRAM OVERVIEW
The NC Medical Society and Kanof Institute for Physician Leadership Future Clinician Leaders College in partnership with the North Carolina AHEC Program lead by the Northwest AHEC, is a one-year interprofessional leadership development program for emerging leaders in health care professional training within the state of North Carolina. This program is distinguished by an emphasis on leading in an interprofessional healthcare environment and participants are invited to actively engage with faculty, speakers and peers. Participants will have the opportunity to interact with state leaders and utilize their leadership skills through an IPL group project to tackle major health policy challenges facing the state. (For more details, scroll down to the Program Description section).
ARE YOU INTERESTED TO LEARN MORE?
Fill out the interest form and we will contact you. Questions? Please contact Aubrey Cuthbertson. Deadline for applications is November 1, 2020.

PROGRAM DESCRIPTION
The one-year program includes a series of live, synchronous workshops that brings together students from a range of healthcare professions to build leader identity and master leadership skills including leading teams, communication, and career development. An interactive and participative approach will probe student experiences, build new perspective, and focus on each student's individual development as a leader. The purpose is to build leadership that centers on self-awareness and fosters authenticity that allows each student to act in alignment with their core values as a leader, encourage and assess information from different perspectives, and balance transparency.

With the individual core as a foundation to leadership development, this course prepares students for the leadership journey, allowing the individual to establish a strong sense of purpose and understanding of who they want to be as a leader. The format for the program builds on three explicit design elements: Theory and Knowledge; Clinical Application, and Reflection and Dialogue.

The purpose of the design is to ensure the connection between theory and practice and allow for peer-learning and feedback to further ensure participants apply learning beyond the classroom. Classroom sessions are combined with virtual meetings to keep building knowledge as well as sustain the group as a cohort.
View One Page Flyer Call For Applications
Read more on NC Med Society Website