Northwest AHEC attended STEAM Night at Winston-Salem Dash on April 25th, and we were delighted to see the first pitch thrown by Alan Morales a Camp Med participant. It was a full circle moment as we were there promoting the Camp Med Program for this summer!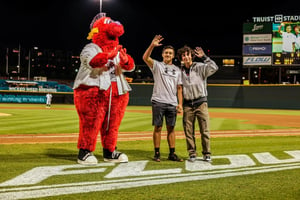 Melanee Mills and Brooke Kochanski were in attendance and setup a table to meet and greet Winston-Salem Dash Baseball fans as they entered the stadium.
"We were both delighted to hear over the loud speaker that the first pitch was being thrown by none other than Alan Morales, a Camp Med Participant from 2022 who saved the life of his friend and classmate with a skill he learned at our program!"
- Melanee Mills, Program Coordinator, Health Careers and Workforce Diversity at Northwest AHEC.
Atrium Health Wake Forest Baptist Termed it as the "Winning Moment: Alan Morales"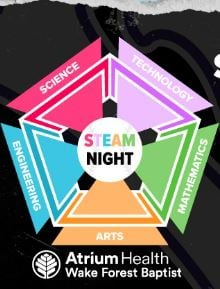 Alan was invited by Wake Forest University School of Medicine to throw the first pitch of the game and joined by his classmate and lifelong friend, Ian Smith. On March 8, 2022, Alan noticed Ian was choking while they were eating lunch. Alan was quick to react and dislodged the food by performing the Heimlich maneuver.
Alan credits his fast action to his participation in Camp Med, an educational summer program that exposes students to career opportunities in the health care field and also introduces them to basic skills such as the Heimlich maneuver, CPR and how to tie a tourniquet.
"After the incident with my classmate, my interest in the health care world has definitely skyrocketed. Before Camp Med, I wasn't even aware of all the different aspects to the health field and then with helping my friend in that situation, I'm even more interested now… One of the first techniques we learned at Camp Med was the Heimlich maneuver and I'm really grateful I had that knowledge and experience to help my friend. They taught us the warning signs to look for, how to safely administer the maneuver and the importance of staying calm in those situations." – Alan Morales
Alan, it was an honor to see you on the mound and we are so proud!!
Camp Med is a partnership between local school systems and the Northwest Area Health Education Center of Wake Forest University School of Medicine. Alan will graduate in May and will attend Western Carolina University in the fall.
Find out more about Camp Med by visiting our website