This two-hour live webinar will focus on the importance of preventing alcohol-exposed pregnancies, and how fetal alcohol spectrum disorders may present across the lifespan.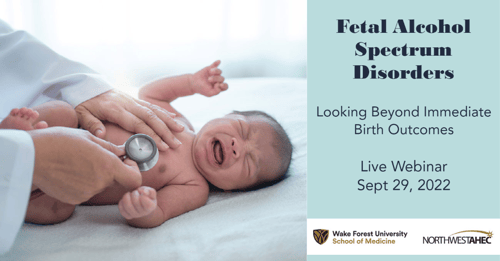 Find more information on the event webpage, and get registered today!
Fetal Alcohol Spectrum Disorders: Looking Beyond Immediate Birth Outcomes
September 29, 2022
10 AM - 12:15 PM
Live Webinar
There is no registration fee associated with this program. Pre-registration is mandatory.

Upon completion of this program, participants be better able to:

Define Fetal Alcohol Spectrum Disorders (FASD).

Identify how this disorder may present beyond immediate birth outcomes.


Recognize the impact of prenatal alcohol exposure on the developing brain.

Identify strategies for preventing alcohol exposed pregnancies.
Faculty

Amy Hendricks , BA
FASD Prevention and Training Coordinator
Proof Alliance NC
Asheville, NC


Kelly L. Pieh Holder DO, FACOG, MA, IBCLC
Staff Physician, Addiction Specialist
Eleanor Health, Cary, NC
OB Hospitalist
OB Hospitalist Group
Novant Forsyth Medical Center
Winston-Salem, NC
Who Should Participate

Certified nurse midwives, doulas, all disciplines caring for pregnant individuals, substance use treatment and prevention specialists, nurses, mental health counselors, psychologists, educators, social workers and any health care professionals working with families affected by FASD.