Dr. Joel B. Miller is an obstetrician-gynecologist in Hickory, North Carolina who was affiliated with multiple hospitals in the area, including Frye Regional Medical Center and Catawba Valley Medical Center. He received his medical degree from Wake Forest School of Medicine of Wake Forest Baptist Medical Center. Dr. Miller and is now retired with more than 40 years of OBGYN career.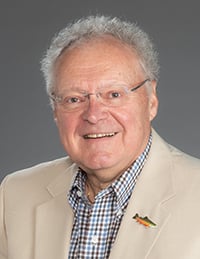 In preparation for the North Carolina Area Health Education (NC AHEC) 50th Anniversary Celebration (1972-2022) we have been searching for impactful stories that have occurred within the Northwest AHEC region.
45 Years ago, in the year 1977 Dr. Miller traveled to Hickory, NC with a few physicians (Dr. Greiss & Dr. May) to build the relationship and ultimately became the first resident to practice in the OBGYN department there. We recently were able to catch up with Dr. Miller on the Healthcare Insights Podcast to learn more about his background and how he was involved in AHEC.


"It was a marvelous experience and phenomenal place to work – this led me to begin practicing in Hickory." –Dr. Joel B. Miller credits his success to the AHEC established housing setup and resources which allowed him to connect with one of the OBGYN groups at Catawba Valley who was looking to add another partner and said Dr. Miller was a great fit. He ended up practicing there his whole career.


Dr. Miller grew up in Statesville, NC and started college at Wake Forest University at age of 18. He ended up staying at Bowman Gray for med school and residency which led him to Hickory, and he has lived there ever since.
Still involved in the OBGYN field, he shares his experience with others by teaching part-time in the PA School at Wake Forest. One bit of advice he likes to share with med students is to "know your personality and practice a specialty that fits your personality type" he credits his success in the OB field with being a strong extrovert who loves having relationships with his patients.
Miller enjoys giving back and being involved in philanthropy, he made a gift for WFU endow a fund for the Humanitate Award and is the namesake for the award. It provides money that recipients can direct in their name to a charitable cause of their choice within Wake Forest Baptist Health and the School of Medicine. By exemplifying the university's "for humanity" motto, Miller is serving as a philanthropic mentor for PA students who are inspired to give back.
As a Wake Forest Alum, he enjoys keeping up with the sports teams and attending football, basketball, and baseball games. He dabbles in photography and fly fishing as well in his retirement.


"Thanks to AHEC to all the education they afforded me and finding me the practice that I ended up being with for 43 years." – Dr. Joel B. Miller


We're honored to have Dr. Miller on the podcast to discuss his many years of service in OBGYN, we appreciate him trusting in Northwest AHEC for all his continuing education needs over the years. Thank you, Dr. Miller, for your dedicated years of service to our Region!
Listen to the Healthcare Insights Podcast with Dr. Joel Miller Here: