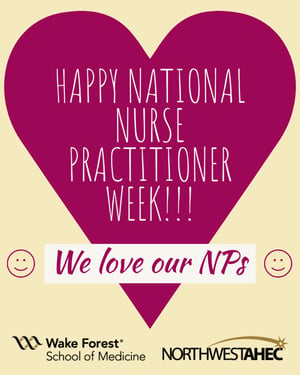 We celebrate you daily, but bring recognition to you this week during National Nurse Practitioners Week!
Nurse Practitioner Week is November 8–14, 2020
This special week offers numerous opportunities to bring recognition to the NP role and increase awareness of the exceptional care that NPs provide.
They are at the forefront of combating the COVID-19 crisis, leading efforts to test, diagnose and treat patients and to prevent the spread of the disease in communities nationwide. Northwest AHEC joins in on recognizing NPs for their leadership, putting the health of patients ahead of their own.
This National Nurse Practitioner Week, we salute you.