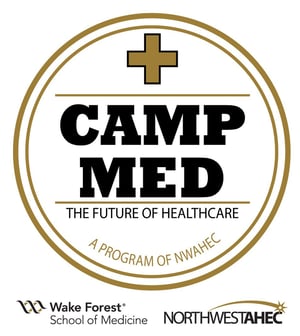 Camp Med Virtual Summer Program 2020 was such a fun and educational experience, it brought a new way of learning for students this year. With 900+ participants enrolled across North Carolina and beyond it was a huge success for Northwest AHEC.
"I really enjoyed the program and it helped developed my knowledge on healthcare career fields. My desire to become a surgeon has been strengthened by this program and I would strongly recommend it to others who are curious about the healthcare industry." - Cassandra Irahola, Camp Med 2020 Participant
Things were a little different this year with face-to-face Camp Med activities being canceled due to COVID-19. This spring Northwest AHEC staff quickly shifted the program to 100% virtual online learning experience. The virtual summer program was available from June 1, 2020 through July 31, 2020.
Camp Med 2020 provided 20+ hours of on-line content designed to give students a fun and rewarding experience while gaining the knowledge and skills to help them make informed decisions about future careers in health, There were 354 students who completed the post evaluation and successfully submitted a student notebook..
Northwest AHEC partnered with Appalachian State University, Catawba College, High Point University, Winston-Salem State University, as well as Brenner FIT®, Center for Experiential and Applied Learning at Wake Forest School of Medicine, College Foundation of N.C., and HOSA to conduct the Camp Med 2020 Virtual Summer Program.
Another way students were encouraged to participate was by entering a video contest. Students were asked to submit a video 3 minutes or less with information they learned from the Virtual Camp Med 2020 Program, and they would be entered to win a $500 or $250 gift card!
"I enjoyed learning more about healthcare and had a lot of fun creating my Camp Med video for the contest!" - Lyba Qureshi, Camp Med 2020 Participant
All of the videos that were submitted all contained a strong and meaningful message about the Camp Med experience! They were creative and original and we applaud you all for going the extra mile to create a video to explain what you learned through Camp Med!
We had 49 submissions for the video contest. Our contest rules stated that we would have one first place and two second place winners. Due to the caliber of these outstanding videos, the awards committee selected two additional second place winners which are listed below.
Congratulations to our first place $500 winner:
Congratulations to our 2nd place $250 winners:
Reed Farrar, Burke County


Shaini Lal, Guilford County


Khadeejah Saleem, Iredell County


Anesia Taylor, Forsyth County

NWAHEC's Annual Camp Med Program is a great way for high school students to discover the world of possibilities in health careers. Now more than ever, there is a need for a talented health care workforce.
We are excited that you are interested in a future in health careers and would invite you to look for information on Camp Med 2021 which will be announced in March 2021. Make sure to visit our Health Careers Website for more information and sign up for email updates below!
To check availability of a Camp Med in your Northwest AHEC region, contact:

Melanee Mills,MEd, Health Careers Coordinator, 336-713-7714, mgmills@wakehealth.edu