Iredell County's next generation of doctors and health professionals recently got a chance to explore the healthcare industry through hands-on learning experiences at Iredell Memorial Hospital.
On June 26, Iredell Health System welcomed 15 Iredell County high school students to the hospital for its annual week-long Camp Med program.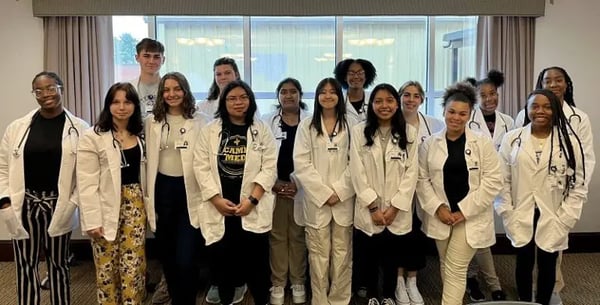 2023 Camp Med participants

The Camp Med students from Statesville High School, Crossroads Arts & Science Early College, and North Iredell High School had to complete an application process and meet specific requirements to attend the camp. Of the pool of applicants, 15 Iredell-Statesville Schools students were selected to spend five days at Camp Med.

Camp Med gives the students an opportunity to explore the different avenues of healthcare.
During the week, the teens toured and interacted with several departments, including endoscopy, dialysis, cardio-pulmonary rehabilitation, laboratory, radiology, The Birth Place, skilled nursing, emergency department, physical therapy, cardiac cath lab, and surgical services. Directors from Marketing & Community Relations and Quality & Clinical Outcomes also visited the campers.
"Camp Med is very beneficial for students, and many of them do pursue a career in healthcare. This program is very important as we have many employees here at Iredell who attended Camp Med," said Keri Sharpe, nurse supervisor who oversees the program.
Here's what five of the campers had to say about their experience at Camp Med:
Fataumata Bah, Statesville High School sophomore
Career Goal: Travel obstetrics (OB) nurse
Favorite part about Camp Med: "We got to see a lot of different places and parts of the hospital and were able to ask lots of different questions. I enjoyed learning about new things in healthcare that I didn't know before."


Brooke Jackson, North Iredell High School sophomore
Career Goal: Physical Therapist
Favorite part about Camp Med: "I enjoyed visiting physical therapy and seeing how everything functions and learning more about the career."


Kelsie Fischer, North Iredell High School sophomore
Career Goal: Obstetrician
Favorite part about Camp Med: "I enjoyed going to The Birth Place because I liked getting to see and learn everything there. I was between wanting to be an OB doctor and a pediatrician, and visiting The Birth Place really solidified my wanting to be an OB doctor. I got to see them in action and decided that's what I liked."


Chloe Hoyle, Crossroads Early College junior
Career Goal: Travel Nurse
Favorite part about Camp Med: "My favorite thing about Camp Med was visiting the emergency room. I like how fast-paced it was."


Ashley Carroll, Crossroads Early College senior
Career Goal: Sonographer or forensic pathologist
Favorite part about Camp Med: "I liked going to see radiology and seeing all the different machines and how they work."
The 2023 Camp Med Summer Program is co-sponsored by the Northwest Area Health Education Center (AHEC) of Wake Forest University School of Medicine, Iredell Health System, and Iredell-Statesville Schools. The program is designed to recruit, educate, and prepare high school students for careers in health professions.
Camp Med students included: Jaedann Allison, Kelsie Fischer, Josiah Heindl, Brooke Jackson, and Vani Patel of North Iredell High School; Fataumata Bah, Beverly Bassette, Ke'Miyah Cowan, Mayte Gaspar, and Nyla Jones of Statesville High School; and Alayshia Brown, Ashley Carroll, Sophia Graham, Chloe Hoyle, and Lily Lor of Crossroads Arts & Science Early College.
About Iredell Health System
Iredell Health System includes Iredell Memorial Hospital; Iredell Mooresville; two urgent care centers; Iredell Home Health; Iredell Wound Care & Hyperbaric Center; Community and Corporate Wellness; Occupational Medicine; the Iredell Physician Network and more. Iredell Memorial Hospital is the largest and only nonprofit hospital in Iredell County. The comprehensive healthcare facility has 247 beds; more than 1,800 employees; and has 260 physicians representing various specialties. Centers of excellence include Women's and Children's; Cardiovascular; Cancer; Surgical Services and Wellness & Prevention. The Health System's second campus, Iredell Mooresville, is home to the area's only 24-hour urgent care facility, as well as an ambulatory surgery center, imaging center, rehabilitation services, and physician practices. The mission of Iredell Health System is to inspire wellbeing. For a comprehensive list of services and programs, visit www.iredellhealth.org.
Article Posted : https://www.iredellfreenews.com/news-features/2023/camp-med-students-explore-healthcare-careers-at-iredell-memorial-hospital/