During the summer of 2021, Alan Morales, 17, completed Northwest AHEC Camp Med, an educational summer program geared at exposing students to the varied career opportunities in the health care field which also introduces them to basic skills such as the Heimlich maneuver, CPR and how to tie a tourniquet.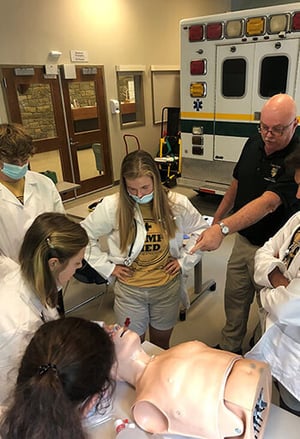 Morales, from Conover, North Carolina, didn't think he would have to put those skills so quickly to the test, but when he recently noticed a classmate that was choking on a bite of food during lunch, he quickly recalled what he had learned the previous summer at Camp Med. The 11th-grader immediately started performing the Heimlich maneuver on his classmate and successfully dislodged the bite of food – Morales was not familiar with the Heimlich maneuver prior to his time at Camp Med.
Camp Med is a program provided by a partnership between local school systems and the Northwest Area Health Education Center (NWAHEC) of Wake Forest University School of Medicine and part of the North Carolina AHEC system.
"One of the first techniques we learned at Camp Med was the Heimlich maneuver and I'm really grateful I had that knowledge and experience," said Morales. "They taught us the warning signs to look for, how to safely administer the maneuver and the importance of staying calm in those situations. I'm really thankful I had the background to help my friend in this situation"
Morales signed up for the program this past summer because he wanted to explore career options in the health care field.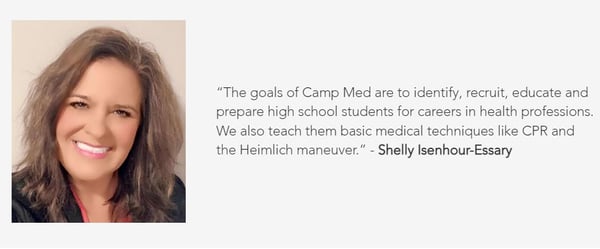 "After the incident with my classmate, and just from completing the program in general, my interest in the health care world has definitely skyrocketed," said Morales. "Before Camp Med, I wasn't even aware of all the different aspects to the health field and then with helping my friend in that situation, I'm definitely even more interested now."
Shelly Isenhour-Essary, a Career Development Coordinator at Catawba County Schools – where Morales attends high school – led the Camp Med course he participated in.
"I've been facilitating the Catawba County Schools Camp Med program for five years and this is the first instance I've heard of one of our past students intercepting an emergency and it makes me very proud of Alan and the program," said Isenhour-Essary. "The goals of Camp Med are to identify, recruit, educate and prepare high school students for careers in health professions. We also teach them basic medical techniques like CPR and the Heimlich maneuver. Now, more than ever, the need for a talented health care workforce is a necessity and during Camp Med, students are exposed to the stimulating world of working in health care."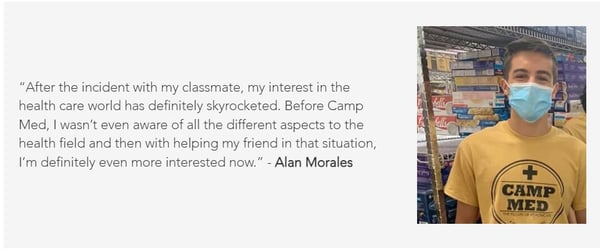 Each summer, Camp Med is supported by NWAHEC with technical assistance, funding and guidance. The program is offered as an in-person course or virtually and is provided at no cost to students and is available in each of the 17 counties within the NWAHEC region.

NWAHEC works with school systems individually to provide the leadership coordinators (for current 9th-12th graders for the 2021 - 22 school year) to provide 20 hours of in-person camp. In-person camps are county based and held in the following counties: Alexander, Alleghany, Ashe, Avery, Burke, Caldwell, Catawba, Davidson, Davie, Forsyth, Iredell, Rowan, Stokes, Surry, Watauga, Wilkes and Yadkin. Deadlines vary for each county.

Students also have the option to participate in a virtual Camp Med (for current 8th-12th graders for the 2021-22 school year). To receive a virtual Camp Med certificate, students are required to complete all the module activities which will be 20 hours of programming. Virtual Camp Med will run June 1 - July 31. Sign-up for virtual Camp Med.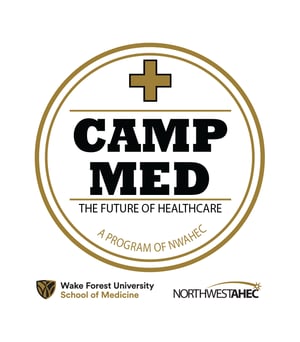 NWAHEC provides and supports educational activities and services with a focus on primary care in rural communities and for those with less access to resources to recruit, train and retain the workforce needed to create a healthy North Carolina.

Those interested in Camp Med can learn more by visiting nwahec.org/CAMPMED.
This story was originally published as a feature story on Wake Forest University School of Medicine Website Here