On May 19th, 2023, geriatric care professionals from across our region descended upon Village Inn Event Center in Clemmons to attend the highly anticipated 2023 Geriatrics Conference hosted by Northwest AHEC. The air buzzed with excitement as attendees finally had the opportunity to meet face-to-face after years of virtual events due to the pandemic.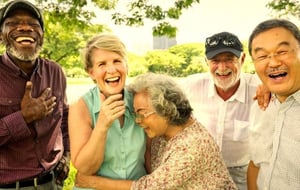 Due to the unpredictability of the COVID-19 pandemic, the conference has been held virtually for the past couple of years. While we recognize and appreciate the benefits of both virtual and in-person events, it was truly special for everyone to gather together in person for this year's conference.
May of 2023 was special for geriatric care professionals in North Carolina because Governor Roy Cooper officially declared it as "Older Americans Month". Our annual Geriatrics Conference, which has been traditionally held in May for many years, was a perfect fit to commemorate this occasion. We hope to continue this tradition for many years to come, so mark your calendars for next May's conference!
The Geriatrics Conference this year focused on behavioral health, but was impactful for many professions including nurse practitioners/nurses, social workers, psychologists, and many other health care professionals that are working with the older adults in our communities.


"All the speakers were wonderful and it has been some time since I attended a conference when all presenters were excellent! Thank you for a wonderful and informative conference."
- 2023 Geriatrics Conference Attendee
"I found the conference to be very informative and educational to my nursing profession. The speakers made their topics interesting and I thoroughly enjoyed them.""
- 2023 Geriatrics Conference Attendee

The unique insights and experiences shared by our diverse lineup of speakers played an essential role in making this year's conference truly impactful. Our topics highlighted this year included narrative gerontology, vaccine hesitancy in the older African American, facing death without fear, and mental health in the elderly population. The participants gleaned information from our speakers to help them understand how we can use the life stories from our aging population to better care for their needs as well as the needs of their families and friends.


We are excited for the 2024 Geriatrics Conference. Be on the lookout for future information regarding this event!

Northwest Area Health Education Center (AHEC), a program of Wake Forest University School of Medicine and part of the NC AHEC System with support from The UNC Center for Aging and Health, Carolina Geriatric Education Center.