Gravidas at Risk is an annual 2-day statewide perinatal conference designed to address both inpatient and outpatient care. Registration is OPEN!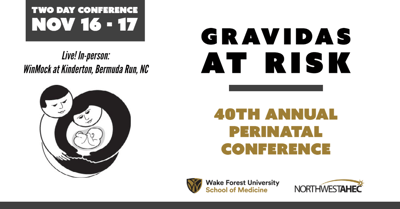 Nov. 16–17, 2022 (Wed. and Thurs.)
Live! In-person at WinMock at Kinderton, Bermuda Run, NC

Upon completion of this program, participants will be able to:

Discuss potential implications of Rh negative blood type on pregnancy outcomes.

Analyze selected obstetric case studies.

Explore cultural consideration of pregnancy.

Identify strategies to assist pregnant woman of advanced maternal age.

Explain the possible impacts of infectious diseases on pregnancy outcomes.

Identify the effects of autoimmune diseases on pregnant women.

Describe the effects of eating disorders on the maternal fetal dyad.

List the challenges associated with postpartum CVD.
Registration:
Limit: 175 participants - Register Early!
$115 —Registration fee for one day (Wednesday or Thursday)
$225 —Registration fee for full two-day conference
$210 —Registration fee per person when a group of three or more registrations are scanned and attached to the same email or mailed in the same envelope

Register today, spots are limited! Check out the full program brochure for more details.
Credits
• 10.0 Contact Hours from Northwest AHEC (both days)
• 1.0 CEUs from Wake Forest School of Medicine
• 10.0 Nursing Contact Hours
Northwest Area Health Education Center (NWAHEC) is approved as a provider of nursing continuing
professional development by the North Carolina Nurses Association, an accredited approver by the
American Nurses Credentialing Center's Commission on Accreditation.
Credit will be awarded based on participant selection at time of registration. Before selecting credits,
please review our general Credit Glossary. Please note not all programs offer all credits.
Criteria for successful completion requires attendance for at least 90% of the activity and submission of the evaluation (5.0 credit hours per day)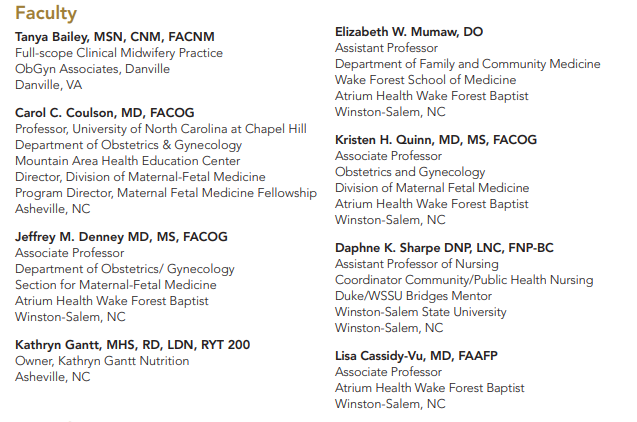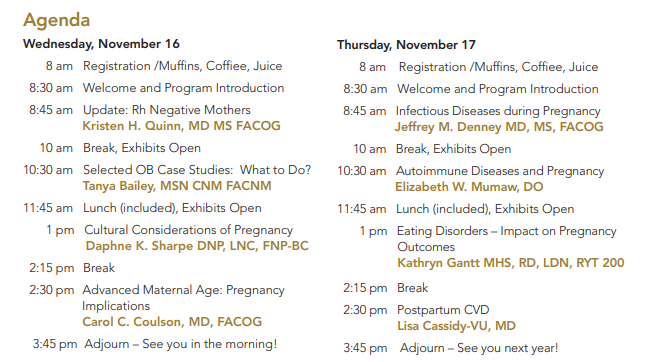 Hotel Information
Hampton Inn Bermuda Run (196 NC Hwy 801 N, Bermuda Run, NC 27006)
336-998-3480
https://www.hilton.com/en/hotels/intbrhx-hampton-bermuda-run/
$119 per night