This conference is designed to provide diabetes best practices for healthcare professionals. Participants will gain knowledge about specific topics in the field of diabetes management. It is imperative that providers remain educated in all aspects of their patients' care, from clinical management to behavior and quality of life.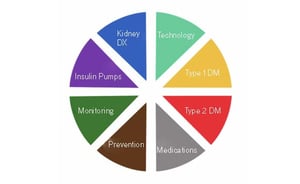 Friday, November 17, 2023
8:30 am–3:30 pm


In-person!
Wake Forest University Bridger Field House
499 Deacon Blvd
Winston-Salem, NC 27105

Cost and Registration
$150– Early bird registration fee, if registered by Oct. 17, 2023
$170– Registration fee after Oct. 17, 2023


Objectives
Identify the roles of an inpatient glucose management team and approaches to patient transition to outpatient.
Review updated pharmacotherapy options and how to implement best practices for diabetes management.
Discuss strategies for sustainable nutritional management in people living with diabetes.
Describe factors leading to sustained motivation for patients with diabetes.
Discuss steroid-inducted hyperglycemia and management.
Describe statin-resistant hyperlipidemia and treatment strategies.
Discuss use of current automated insulin delivery systems and considerations for management.