The North Carolina Annual STI Update was held on March 23, 2022, as fully remote for presenters and attendees for the second year in a row. Hosting it virtually allowed Northwest AHEC and partners to offer the longstanding and reputable continuing professional development activity safely during the ongoing pandemic. The event is also provided at no cost to attendees thanks to the partners involved.
Northwest AHEC collaborates with the following organizations to plan and provide the activity: NC Department of Health and Human Services, Division of Public Health, Epidemiology Section and Communicable Disease Branch; University of Alabama at Birmingham, Division of Infectious Diseases; Southeast STD/HIV Prevention Training Center; NC HIV Training and Education Center; and Wake Forest School of Medicine, Section on Infectious Diseases.

The 2022 North Carolina Annual STI Update largest attendance in registrants to date since Northwest AHEC started managing the activity in 2013. This year there were 955 participants across several disciplines – Allied Health, Behavioral Health, Medicine, Nursing, Pharmacy and Public Health. The activity expanded its reach to four other states outside of North Carolina – Alabama, California, South Carolina and Virginia. Within North Carolina, 98 out of 100 counties were represented.


Enduring Material Now Available as Online Learning: Recorded sessions from the March 23, 2022 Annual STI Update are now available online! Stay up-to-date on information on prevention, management and treatment of sexually transmitted infections (STIs). View more info on our website.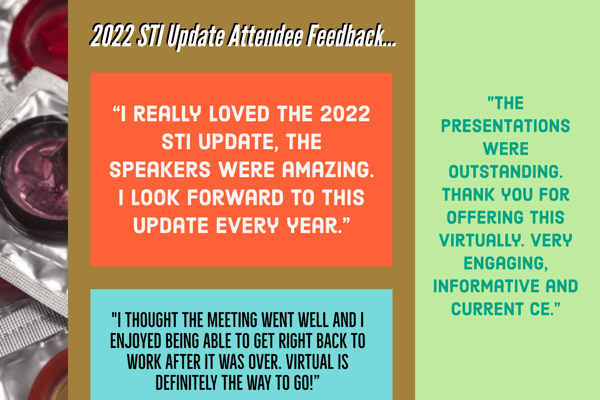 Topics covered this year included:
Hepatitis A, B and C
PrEP and public health
Direct and indirect ways substance use increases the risk of STIs
Updates in the epidemiology, diagnosis and treatment of vaginal infections (BV, trichomoniasis, VVC)
Syphilis trends in women of reproductive age and factors associated with risk of congenital syphilis
CDC recommended strategies to diagnose, treat and prevent common STIs
Practical and evidence-based strategies for enhancing well-being and preventing burnout