The NC AHEC Nurse Council and the NC Community College System invite you to join us! This annual event hosted by the NC AHEC Nurse Council and the NC Community College System brings together academic leaders from all levels of nursing education.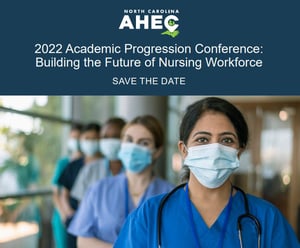 Content experts will examine strategies to help students prepare for the Next Generation testing, explore the role of LPNs in the NC health systems, discuss alternative clinical experiences that were supported by the NC AHEC Clinical Site Development grants, and discuss substance use in the academic setting.

View full program brochure here with agenda and details!

Nursing Contact Hours: 5.50
Northwest Area Health Education Center (NWAHEC) is approved as a provider of nursing continuing professional development by the North Carolina Nurses Association, an accredited approver by the American Nurses Credentialing Center's Commission on Accreditation.
Registration is $35 and will be handled by our friends at Wake AHEC on their catalog. Sign up today to secure your spot!
Learning Outcome
Leaders in the academic setting will increase their knowledge related to opportunities for academic
progression in North Carolina, development of alternative clinical sites, and management of current
challenges with Next Generation testing and substance use disorder among students.