Don't miss out on this amazing opportunity to join us for just $125! Our registration is now open, and you can find all the details on our website.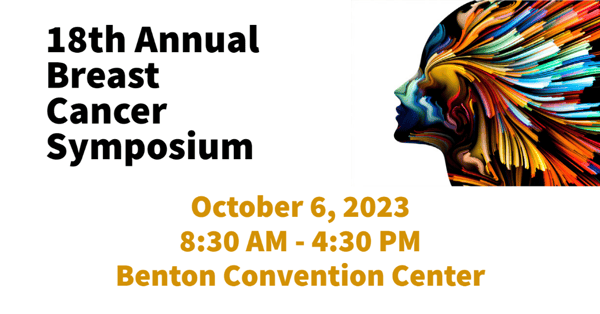 Join us on October 6, 2023 at the Benton Convention Center

The optimal treatment of breast cancer patients involves a multidisciplinary team of physicians. Due to the time constraints placed on health care providers who treat breast cancer, it is a challenge to provide and attend educational opportunities that bring together medical, surgical, and radiation oncologists as well as radiologists, pathologists, nurses and allied health staff. This symposium aims to address this educational need by providing participants with the latest developments in multidisciplinary fields that treat and care for breast cancer patients.

Register today for the early bird discount $125, by Sept. 8th!
Keynote Speaker
Sarah McLaughlin, MD, FSSO
Dr. Sarah McLaughlin is a Professor of Surgery at the Mayo Clinic in Jacksonville, Florida. She graduated from the University of Missouri-Kansas City Medical School with distinction. Within the Mayo Clinic, she is a member of the Mayo Clinic Board
of Governors and a member of the Florida Executive Operations Leadership Team, Division Chair of General Surgery Mayo Clinic Florida, and the Medical Director of the Robert and Monica Jacoby Center for Breast Health.

Objectives
Upon completion of this activity, participants should be better able to:

Describe the care of young women with breast cancer.

Make informed decisions about when to use genetic panel testing in the diagnosis and management of breast cancer patients.

Discuss the latest breast reconstructive techniques.

Describe benign breast disease.


Identify the newest techniques in breast imaging.
Check out the full agenda and speaker lineup on the program brochure!