The Training Industry Conference & Expo (TICE) was held online on April 27-29, Andrew L. Brewer, MS, Instructional Technologist for Northwest Area Health Education Center (NWAHEC), presented Pandemic Pivot: Shift from Classroom to Virtual. Andrew also hosted a roundtable discussion session on the future of online learning and development.
TICE was attended by training professionals from all over the world. For the first time in the history of this long running program it was available online everywhere due to the COVID-19 pandemic, so the topic of virtual learning was especially timely.
With the experience of NWAHEC's shift to online delivery, Andrew was able to use a case study to share the methodologies and lessons learned as NWAHEC tackled the challenges presented by the sudden necessity of virtual learning.
The following are some of the highlights of his session...
The NWAHEC team experienced some hiccups as they transitioned from the office to working from home but quickly overcame technical and procedural barriers that allowed them to offer programming to their constituent learners. Business continuity and accountability were the initial focus once everyone was safe and comfortable working in the new environment during very uncertain times.
With strong enterprise infrastructure from the Wake Forest Baptist Health Enterprise and seasoned operational systems to support event planning and delivery, the NWAHEC team was able to shift the plethora of classroom activities to virtual platforms.
Delivering activities virtually presented new opportunities as well as challenges as Program Coordinators and Faculty adjusted content for online delivery and wrestled with ways to keep learners engaged. Multiday events had to be adjusted for time while considering licensure compliance and learner availability. Additional time investment was required for practice sessions and accommodating activity requests for special programmatic.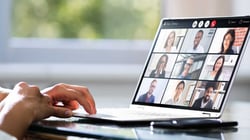 Virtual activities serve to meet learners where they are by eliminating the need for travel and reducing program costs for both providers and learners, especially for those in rural areas or in organizations with limited funds. Asynchronous activities serve to meet learners when they can learn for ultimate flexibility but at the expense of direct engagement with faculty.
Business processes were adjusted to reflect cancellations, postponements, rescheduling, and reformatting. Pricing and registration variables were adjusted to reflect changes in activity time and format with the goal of providing quality learning experiences. Some long running destination events were early casualties of cancellations; however, many other programs increased their registration numbers since room size was no longer a limiting factor in the virtual space.
Even after one year in the pivot to virtual many challenges remain but NWAHEC has managed to overcome many obstacles to embrace the "next normal" of online activities. The flexibility of attending virtually can still compete with distractions from working at home for example. Practice sessions with speakers and faculty are still necessary to work out kinks prior to show time. As learners face the unknown occurrences like random power outages, untimely bandwidth latency, and other frustrating tech problems that can crop up from time to time...it is not always smooth sailing.
Bottom line is...despite the challenges and because of the necessity of continuing professional development to keep healthcare professionals current with the latest topics, trends, and techniques, NWAHEC has embraced and grown to thrive in the virtual world!
As classroom and destination activities slowly come back online we can be certain that virtual programs – synchronous, asynchronous, and blended – are here to stay.
Participate and see the results of Andrew's survey at https://www.menti.com/yf5ewxjp5f
Read Andrew's TICE article here: https://trainingindustry.com/articles/remote-learning/pandemic-pivot-engaging-and-connecting-learners-in-the-virtual-classroom/
Here are a few slides from the survey results: