Salem Academy and College will hold its inaugural Health Leadership Forum on Thursday, April 21, 2022. Salem College is the nation's only liberal arts college exclusively dedicated to developing the next generation of women leaders in health.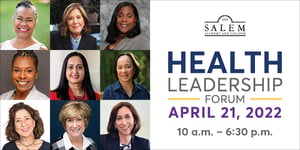 The Health Leadership Forum will feature a selection of women in health leadership roles who are widely recognized as experts and innovators in their fields. The Forum is free and open to the public.
April 21, 2022
10AM - 6:30PM
Location: Salem Academy and College
(601 South Church Street, Winston-Salem, NC 27101


Panel discussions will focus on diverse career options, emerging issues in health leadership, and collaboration across disciplines will offer students, educators, and community members an opportunity to consider holistic solutions to local and global health challenges. The Keynote Speaker for the Health Leadership Forum is Prathibha Varkey, MBBS, MPH, MBA, MHPEd, President of Mayo Clinic Health System. Panels will include leadership from Doctors Without Borders, the Emory University School of Medicine, the Gillings School of Public Health at the University of North Carolina at Chapel Hill, and the Kate B. Reynolds Charitable Trust.
For additional information and to register for the Health Leadership Forum, please visit rise.salem.edu.
Keynote Speaker: Dr. Prathibha Varkey, President of Mayo Clinic Health System
Named as the Mayo Clinic Health System President in 2021, Dr. Varkey previously practiced medicine and served in several leadership roles at Rochester, Minn.-based Mayo Clinic for more than a decade before leaving in 2013 to pursue CEO roles at Seton Clinical Enterprise in Austin, Texas, and Northeast Medical Group within Yale New Haven (Conn.) Health. Dr. Varkey has a Masters of Public Health from Harvard T.H. Chan School of Public Health, a Masters of Health Professions Education from University of Illinois Medical Center, an M.B.A. from the University of Minnesota, and an honorary Masters of Arts from Yale University.

Health Leadership Forum Panel:
Africa Stewart, MD, MBA, President of Doctors Without Borders
Terri McFadden, MD, Professor, Emory University School of Medicine, Clinical Director of PARTNERS for Equity in Child and Adolescent Health
Cymbeline Culiat, PhD, Co-founder of NellOne Therapeutics
Barbara Rimer, DrPH, Dean of the Gillings School of Public Health, UNC-CH
And Salem Alumnae:
Paula Myers Rowland C'79, MPH, PhD, Health Program Evaluator and Director of Culture and Organizational Learning at ORS Impact
Linda Brooks Talley C'82 MS, RN, Senior VP and Chief Nursing Officer, Children's National Hospital
Hanan Abdul Rahim C'92, MSc, PhD, Dean of the College of Health Sciences, Qatar University
Check out this Recent Healthcare Insights Podcast with Salem Academy and College President, Summer McGee, PhD, CPH
Listen to the full interview on Soundcloud
Summer is the President of Salem College in Winston-Salem. She is a prominent advocate for the education and advancement of women in Health Leadership, for the advancement of diversity, and for the power of educational innovation. She received the American College of Healthcare Executives Distinguished Faculty Regents Award in 2014, was named in 2015 one of the Top 50 U.S. Healthcare Management Professors, and was recognized as one of Connecticut Magazine's "40 Under 40" in 2019. Read more at www.salem.edu/people/summer-mcgee