The NC AHEC Scholars Program at Northwest AHEC recruits, trains, and supports a diverse group of students, creating a multidisciplinary team of health professionals committed to both community service and the transformation of health care in North Carolina. This year, during the pandemic we have converted to a virtual NWAHEC Scholars program which started in September.

Students at Wake Forest University and Winston-Salem State University were invited to apply to the two-year program, then they will complete 40 hours of didactic (lecture) training and 40 hours of clinical training (learning through experience) each year. Scholars meet students and faculty from other schools and across the region and state. They will also have the chance to meet a variety of the leaders in health care, and make connections with other participants.
This year there are a total of 41 Scholars in the NWAHEC program in our region from WFU and WSSU. Across the State of North Carolina there are 352 scholars in total.

During the Scholars Program this year the students will participate in orientation, live webinar trainings, group meetings, and self-paced online learning. The hope is that students will experience more in-person clinical experiences when the pandemic subsides.

Some examples of the programs students are participating in:
On September 23rd the Scholars participated in NWAHEC Programming – Addiction Treatment in the Age of Social Distancing.
At the October 6th live virtual meeting the Scholars were able to learn from Dr. Joey Skelton from Brenner Fit about nutrition. (See photo)
During the October 10th live virtual meeting students learned about Motivational Interviewing from Cheryl Hicks at Wake Forest University.
Upcoming on November 14th the Scholars will join together on a Statewide combined session learning about Reducing Implicit Bias with Dr. Rosemarie Allen.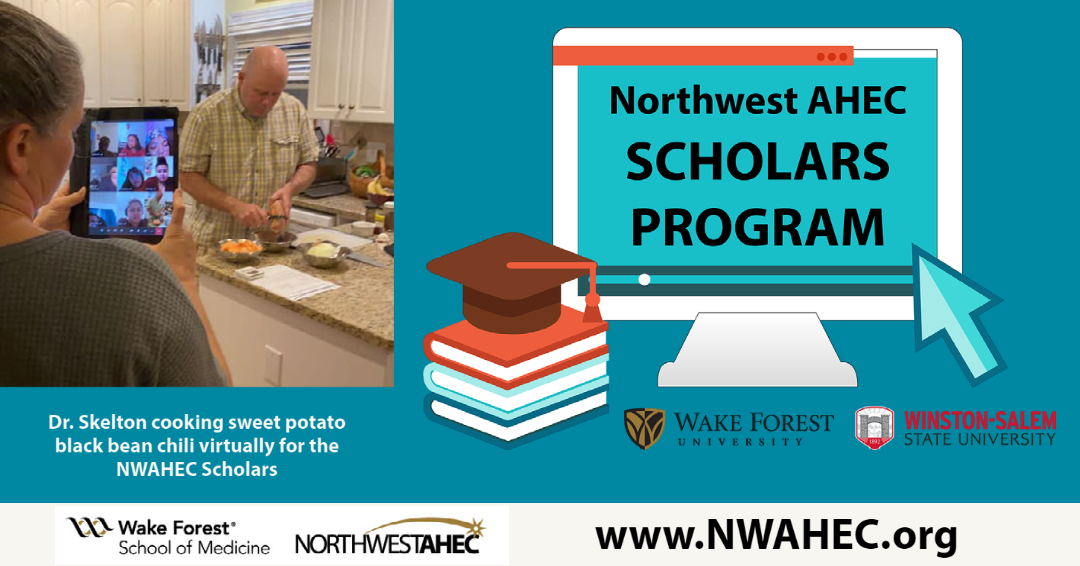 With an emphasis on underrepresented minorities, rural, and first-generation college students, the NC AHEC Scholars Program at NWAHEC aims to improve the diversity and distribution of all health professions and support health systems transformation across the state.

The mission of Northwest AHEC Health Careers and Workforce Diversity is the following:
Ensure all health care agencies in the Northwest AHEC 17-county region have a diverse and culturally competent workforce at all health profession levels. We strive to ensure that every student, grades 9-12, post-secondary and in professional schools, in the region is aware of and excited about the broad spectrum of health careers as viable and attainable career options.
Want to learn more about this program or get involved?
Or contact:
Melanee Mills,MEd
Health Careers Coordinator
336-713-7714
mgmills@wakehealth.edu