The 2021-2022 NC AHEC Scholars Program at Northwest AHEC is off to a great start. The group of 41 Scholars had their orientation in September and are a great group of young minds ready to learn!
The Scholars have been able to participate in live and virtual presentations, facility tours, leadership training, hands on Basic Life Support and Mental Health First Aid Certifications, modules on financial literacy and health disparities, Bridges Out of Poverty Training and Safe Zone in Medicine trainings. Scholars have an opportunity to attend sessions of interest that are aligned with their health career goals. More trainings are scheduled on the path to physician assistant, nursing and the medical school, medical research, diversity and inclusion in mental health and more.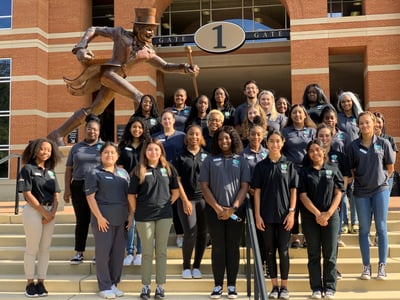 2021-22 Northwest AHEC Scholars
Krya Akande, WSSU, Nursing
Girnar Anand, WFU, Bioethics
Kiara L. Batts, WSSU, Nursing
Giselle Bedolla-Solis, WSSU, Nursing
Alexa Bernicker, WFU, Health & Exercise Science
Aliyah N. Cabbs, WSSU, Nursing
Celine Cardenas, WFU, Biology
Natalia I. Casas, WFU, Psychology, Medical Spanish
Ashley Challenger. WSSU, Health & Exercise Science/PT
Amarachi Chukwunyere, WSSU, Nursing
Gabriela de la Vega, WFU, Spanish, Neuro Science
Tonia D. Edwards, WSSU, Psychology, Health Administration
Farrah Fields, WSSU Nursing
Cornelia S. Finch, WSSU, Nursing, Public Health
Kaliyah Fisher, WSSU, Nursing
Triniti Galloway, WSSU, Nursing
Hannah K. Getachew, WFU
Rebecca Getu, WFU, Psychology
Robbie L. Grace, WFU, Health & Exercise Science, Biology
Leslie J. Granados, WFU, Health & Exercise Science, Medical Spanish

Brianna Green, WSSU, Nursing
Leilani Herrera, WFU, Health & Exercise Science, Spanish, Neuroscience
Toni Johnson, WSSU, Nursing
Ketsia Kasongo, WSSU, Nursing
Daryna Lapomarede, WFU, Bio Chemistry
Terren Lewis, WSSU, Nursing
Emily Mabe, WFU, Counseling/Psychology
Samoya C. Majors, WSSU, Rehabilitation Studies
Kailah Major-Taylor, WSSU, Health Care Management, Business
Paris Marsh, WSSU, Nursing
Lakyn Mathis, WFU, Biochemistry, Molecular Biology, Bioethics
Ashton Melton, WSSU, Nursing
Estefania Narvaez, WFU, Health & Exercise Science, Neuroscience
Oluwabunkola Ojo, WSSU, Nursing
Alexis Ratliff, WSSU, Nursing
Daisy Sarmiento, WFU, Health & Exercise Science
Joselyn Sixtos-Aguirre, WSSU, Nursing
Leah Thomas, WSSU, Health & Exercise Science
Tiffany Tzintzun, WFU, Health & Exercise Science, Health Policy Admin
Ismael Valdez, WFU, Biology, Medical Spanish

The NC AHEC Scholars Program at Northwest AHEC recruits, trains, and supports a diverse group of students from across the state, creating a multidisciplinary team of health professionals committed to both community service and the transformation of health care in North Carolina. We seek individuals who are committed to improving health and health care, devoted to community service, and interested in improving their own skills and in working with other professionals in team-based care.
With an emphasis on individuals from underrepresented minority populations and/or from disadvantaged/rural backgrounds, as well as first-generation college students, the NC AHEC Scholars Program aims to improve the diversity and distribution of all health professions and to support health systems transformation across the state. Each class of NC AHEC Scholars represents a variety of health professions and institutions from every region of North Carolina.
Northwest AHEC partners with two institutions for the Scholars Program, Wake Forest University (WFU) and Winston-Salem State University (WSSU). We coordinate to recruit ten students per year from each campus that are focused on a career in health.
Learn how to apply and more on our website!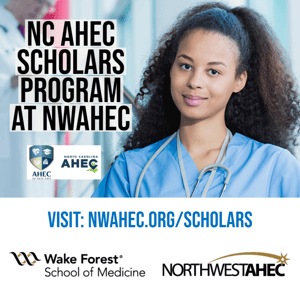 NC AHEC Scholars are able to:
Supplement and enrich your education
Receive a $1000/year stipend
Participate in 40 hours of didactic and 40 hours of clinical work each year
Have the opportunity to network with fellow students and health care professionals
Gain access to unique experiences to help you thrive in health care
Receive an NC AHEC Scholars Certificate, which sets you apart from other students in an increasingly competitive environment