Students, health professionals, and Area Health Education Centers (AHEC) across the nation will celebrate National AHEC Week March 28 – April 1, 2022.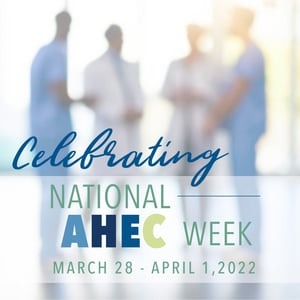 The week has been set aside to celebrate the AHEC mission of strengthening the nation's healthcare workforce. It is also a time for AHEC advocates to connect with their members of Congress in support of the program.

AHEC, created by Congress more than 50 years ago to improve U.S. healthcare availability and delivery, is an important part of the nation's health workforce development infrastructure.

"For decades, we have been paving the way for young people on their journeys to healthcare careers," said Aileen Harris, president of the NAO and center director for the Capital AHEC in Virginia. "That is helping to shape our healthcare system in a way that makes it more responsive to our most vulnerable populations. The impact of that work is in many ways immeasurable."

Through academic and community partnerships, AHECs develop and train a diverse healthcare workforce prepared to deliver culturally appropriate, high-quality, team-based care, with an emphasis on primary care for rural and underserved populations.

The need to strengthen the healthcare workforce, particularly for the underserved, continues.
According to new Association of American Medical Colleges, the U.S. could see a shortage of up to 124,000 physicians by 2034, and the American Hospital Association says more than 200,000 new registered nurses are needed each year to meet increasing health care needs and to replace nurses entering retirement.

The nation's 300 AHECs are in nearly every state and in multiple U.S. territories. Administered by the Health Resource Services Administration (HRSA), AHECs are federally funded, and many are also supported by state governments, foundations, or other partners.

AHECs are well known for engaging future health professions in programming such as health career camps, shadowing experiences, academic enrichment, and networking opportunities. Once students enter their program of study, many AHECs facilitate rural student clinical rotations.
In its latest budget justification, HRSA noted that in a recent five-year period, the nation's AHECs trained more than 1.8 million individuals. Forty-two percent of those completing programs were from a rural background, 40 percent were from disadvantaged backgrounds, and 29 percent were underrepresented minorities.
One of AHEC's many programs is AHEC Scholars. Implemented in 2018, it provides supplemental education to health professions students that focuses on key topics such as cultural competency and emerging health issues.

Visit nationalahec.org to learn more about National AHEC.