When searching for a way to give back to the community, Northwest AHEC did not have to look far for something where we could impact our local community. Senior Services of Forsyth County is located just across the street from our office location, at McCreary Tower, and they have a critical need for volunteers for the Meals-on-Wheels program.


Senior Services' mission is to help older adults remain at home for as long as possible and to help them live with dignity. They have been operating in Winston-Salem for more than 58 years. Many local seniors are homebound and struggle to obtain healthy meals. Hundreds have no one to talk with or check on them on a regular basis. When volunteers come to the door with a hot meal Monday through Friday, the food and visit help these seniors stay healthy and independent longer. Meals-on-Wheels operates three nutrition programs to assist the homebound elderly in Forsyth County: hot meals, groceries, and frozen meals.

Wake Forest Baptist Health (WFBH) has a strong culture and history of service in the Winston-Salem community. In continuing with that commitment to service, the Northwest Area Health Education Center (AHEC) and Office of Continuing Medical Education (CME) established a partnership with Senior Services of Winston-Salem and their Meals on Wheels program.

Northwest AHEC has been volunteering with Senior Services for over 9 years since January of 2012. We encourage staff members to volunteer and deliver meals for Meals-on-Wheels on the 2nd and 4th Wednesday of each month.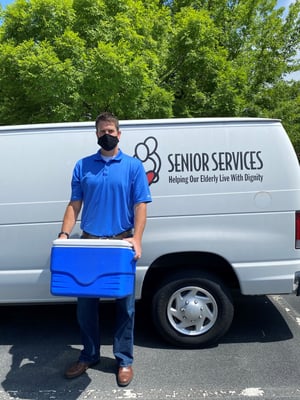 There are 4 main objectives for this staff development program:
Encourage teamwork among staff members who might not typically get the chance to work together.
Support our community in a meaningful way.
Enhance our personal and professional understanding of the health of some of those most likely to need a variety of healthcare professional services in our community.
Help some of our most vulnerable citizens (the shut-in elderly) stay in their homes and function as independently as possible.
(Picture of Reed Burger, NWAHEC Assistant Director, Finance & Administration at a recent volunteer day)

The "Salem Route" is the route we are assigned to deliver lunches in North/East Winston. This route is very close to the NWAHEC office at McCreary Tower, allowing us to make an impact and give back in the neighboring community.


"Nothing can replace the feeling that you get when you get to know the people on your route and get a small glimpse into their lives." – Melanee Mills, NWAHEC Staff Member
Access to Food and Social Determinants of Health
The conditions in which people live, work, play, and worship are known as Social Determinants of Health. (Healthy People 2020) These conditions can have influence on a wide range of health and quality of life outcomes.
North Carolina Social Determinants of Health by Regions
In Forsyth County the total population over 65 years of age is 14%. Our Meals-on-Wheels Route is in Region 3 Tract 5 below are some stats from that area:
Total Population: 2,467
Total # of households 1,127
Low access to Healthy Foods 1,992 (80%)
86.5% African American
Median Household Income: $17,347
46.2% of Population Below Poverty Level
22.8% Unemployed
28.9% Less than High School Graduate Education
14.7% Without Insurance
33% No Vehicle Available
71% Rental Household
65.4% Paying 30% or More of Income on Rent

Who is Eligible for Meals-On-Wheels?
Forsyth County residents age 60 and over who are homebound and unable to obtain and prepare a nutritious meal for themselves are eligible for this service. There may be a waiting list in certain parts of Forsyth County if the route in that area is full.
For more information or to sign up for Meals-on-Wheels, please contact Senior Services' Help Line:
Phone: 336-724-2040
Email: helpline@seniorservicesinc.org
Want to become a Meals-on-Wheels volunteer?
Meals-on-Wheels volunteers deliver a hot meal and a warm smile to seniors who are homebound. Deliveries generally take about an hour and a half Monday through Friday between the hours of 10:00 a.m. to 1:00 p.m. Routes are available all over Forsyth County and volunteers can deliver once a week, once a month or as often as their schedules allow. Click here for more information