The Northwest AHEC Practice Support Team supports social, physical, and economic environments which promote attaining the full potential of health and well-being for all. This blog segment will highlight impactful publications which promote improved health outcomes through Social Determinants of Health (SDOH) each month.
The article the Practice Support team featured this month discusses the transformation of how healthcare organizations and healthcare leaders are addressing Social Determinants of Health (SDOH) in today's society.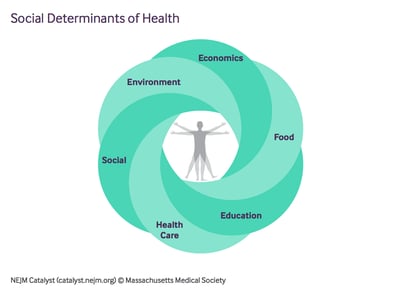 A main focus point is on health equity and population health. It has been found that reducing health inequity substantially increases the well-being of patients. The article makes it clear that research has shown how states that have allocated more resources to social services than to medical expenditures, have substantially improved health outcomes over states that do not.
The article further delves into specific examples of organizations that are leading the way in addressing SDOH and are working collaboratively with other organizations to assist vulnerable patients. Overall, the article shows how SDOH can be addressed by healthcare organizations and how vital the need really is for vulnerable patients.
Read full article here - https://catalyst.nejm.org/doi/full/10.1056/CAT.17.0312