On behalf of the entire Northwest AHEC team, I welcome you to the 2020-2021 Annual Report. The past year has looked quite different than many in our 50-year history, full of unique challenges and obstacles to facilitating the education and growth of health care professionals.

Through the remarkable perseverance, flexibility, thoughtfulness and grit of our team and organizational partners, we didn't miss a stride.

We invite you to view the Annual Report, click below...


The Northwest AHEC staff served as a facilitator connecting learners with experts, as we continued to build and support a collaborative culture of multiple perspectives and needs. Our connectedness to the different communities, providers and people we serve allowed us to be more proactive and flexible in developing and improving activities and programs. We were able to quickly evolve education pathways and individualized learning for students, residents, and practitioners by leveraging our years of experience with online and blended learning programs. This ability to adapt undoubtedly contributed to our record number of Continuing Professional Development participants this fiscal year.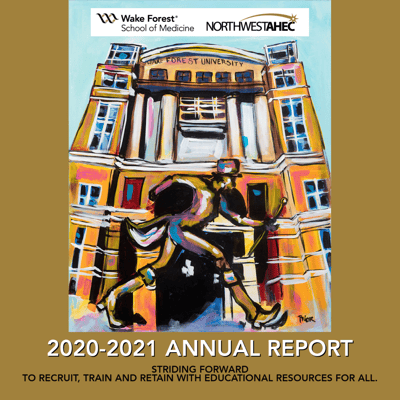 Our staff provided steady insight into how the roles of learners and leaders shifted leading to new partnerships. One example is noted in an interprofessional collaboration between the Department of Physician Assistant (PA) Studies at Wake Forest School of Medicine and the Winston-Salem State University School of Health Sciences. These two institutions, in partnership with Northwest AHEC, began a pilot program in 2021 to add an electronic health record simulation software which allowed future PAs and all nurses and allied health students to learn together in a virtual setting.

Despite the changing educational and healthcare environment, we persevered through utilization of new tools and enhanced skill sets which helped us leverage data regarding our communications and marketing efforts, enabling greater results-based accountability.

Over the past fiscal year, we re-dedicated ourselves to issues of diversity, equity and inclusion in our own office and in the health care workforce. We've further developed our plans to encourage and assist all partners to include a specific learning objective to address diversity, equity and inclusion issues in every activity. This is particularly important to Northwest AHEC given the impact of health care worker shortages on underserved, under-represented populations. As an organization and as individuals, we are focused on conversations about these issues and putting educational activities in place in a safe approach to social determinants of health in order to meet basic health needs for all.

As we look forward, we are excited about the opportunities to both think bigger and be more targeted with our programs as a result of the growth of Wake Forest School of Medicine via the strategic combination of Wake Forest Baptist Health and Atrium Health. Now more than ever, we are committed to our role as the regional educational resource to support recruitment, training and retaining health care professionals in order to improve access to care across the region and state.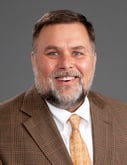 Michael P. Lischke, EdD, MPH
Richard Janeway, MD, Distinguished Director of Northwest AHEC